Sponsorship by corporate brands will replace the disappearing record label, Avril Lavigne's manager Terry McBride told us one soggy summer day last year.
"We'll have Dorito™-sponsored bands. They'll come to an artist with a $5m ad budget, and they will say will add x money to your business, but we want something for that." Recorded music would be "an upsell technique" to sell you something else - like a T-shirt.
A few months later, Avril Lavigne left to get a new manager. Perhaps it's a coincidence, or perhaps she wasn't inspired by Terry's Doritos™-centric vision of the future. Chris Castle calls the dependence on advertising and sponsorship the most worrying trend in music.
"I can't see this new music business producing another Bob Dylan - or anyone like that who openly defies corporatization," he told us gloomily last year.
Well, a music business dictated by a guy marketing deodorant gets nearer every day. Announcing its results last week, EMI said it was switching its focus away from the CD, where sales are falling, and focussing on brand advertising "partnerships" and sync licensing deals.
Elio Leoni-Sceti, EMI's chief executive, had already announced a reorg designed to capture this revenue. CD sales at EMI declined by 8 per cent to under £300m over the past six months, while digital recorded music sales grew by over a third to top £100m for the first time. EMI's publishing business brought in £205m, but didn't show any growth.
A long shadow of debt falls over the company: £125m in interest payments alone, and £2.4bn in all. EMI's annual loss in 2H 2008 fell to £155m with revenues up to £667m. The Sony music companies also announced a decline in overall revenue, 22 per cent down year on year.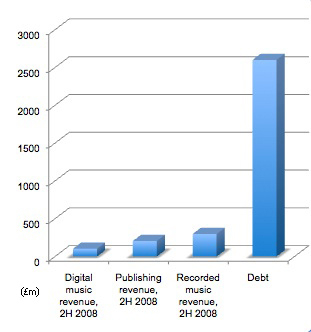 EMI's 2H-2008 by numbers
In both cases, they're large publishing companies as well as recorded music companies. And in both cases, investors view the publishing side as undervalued, while the recorded music side is a dead duck. (Sony was one of the labels which helped put the Virgin P2P scheme on ice - the first real new revenue for recorded music in the digital era.)
Yet despite the gloomy prognosis for big labels, there's interest from corporate sponsors in the total revenue a big artist can generate, as their managers are well aware. So why not fill the gap by turning bands into singing, dancing, beer and crisp and aftershave adverts?
The problem is that the future isn't evenly distributed. With an ad man in charge of music, money flows to the already-established artists: good news for Bryan Adams and Madonna. If brand sponsorship finds its way to an up-and-coming band, then it comes with strings attached.
I know of one successful Asian rock band that found it couldn't play festivals abroad sponsored by a rival beer brand. This reduces them to chattel. Disputes between artists and labels are legendary, but at least the artist could still play live, if he or she wanted, down the pub. The much vaunted "360 deal" ends that freedom.
As Castle put it here, you'll have two extremes: "You'll have extreme commercialization on one hand, and the very indie-oriented artist on the other who rejects taking the king's shilling. There's not much in between." ®