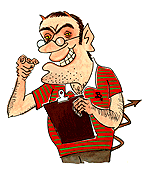 BOFH2K1: BOFH returns from the dead He's mean, he's moody, he's less than magnificent
BOFH2K2: Wanted Bastard Operators to man Helldesk BOFH meets the troops. He's not impressed
BOFH2K3: BOFH unmasks the printer smasher Workplace disenfranchised user complex
BOFH2K4: BOFH goes to Hollywood Medical drama unfolds
BOFH2K5: BOFH specs the Quake Box From Heaven Games Bastard Operators play
BOFH2K6: BOFH masters the art of creative accounting One consultant minus one piece of paper = £3,000
BOFH2K7: agony uncle and bastard Revenge is a dish best eaten Vindaloo hot
BOFH2K8: BOFH 1: TWAT 0 The Pedant's Guide to Computing Knowledge
BOFH2K9: BOFH tracks down Arsonist ... and saves PFY's skin
BOFH2K10: BOFH plays with Maggot Pick a Password. Any Password
BOFH2K11: BOFH discovers Voice Recognition Is it your floor that has the Gas Leak?
BOFH2K12: BOFH moonlights CRAP SOFTWARE By all means necessary
BOFK2K13: The BOFH interpretation skills test – try it if you DARE Operator or Management – which are you, boy?
BOFH2K14: BOFH signs up for M$ soap slush fund Software Piracy. Just say no
BOFH2K15: BOFH dreams of justifiable user homicide Let no man come between BOFH and his sleep
BOFH2K16: BOFH meets the Bitch Operator - match made in Hell
She steals his heart, and his wallet too. BOFH newbies can tune into previous episodes here.
BOFH Tribute section: From the bowels of the Helldesk
102 Ways to kill Your Computer
Build your own Klingon disruptor
BOFH is owned by Simon Travaglia: don't mess with his copyright.