This article is more than 1 year old
New Intel TV ads 'complete crap'
Updated Central characters are Mac users
You'd think Intel might do a quick trawl around its competitors' websites before signing on the dotted line for a new global ad campaign.
And had the chip behemoth bothered to do this it would have discovered that the central characters in its latest TV ads are Power Mac users and feature large on Apple's website.
When the detested Intel Bunnypeople finally boarded the train for the Gulag, world+dog breathed a sigh of relief. It appeared that, at last, Chipzilla had recognised that zany but loveable weirdos weren't everyone's cup of tea.
But whatever it is that Satan Clara's ad department ingest, it sure as Hell ain't tea. We're talking some heavy duty, class A substances here, people.
Intel's new Pentium III brand awareness campaign launches less than a month from the debut of Pentium 4 - clever eh? Featuring three bald, blue persons in a whole array (two, actually) of wacky scenarios, the ads plumb previously unplumbed depths according to The Register's resident marketing guru, Doctor Spinola.
"I'm sure everyone was glad to see the Bunnypeople killed off," he says. "But this new campaign is complete crap. Why aren't they pushing Pentium 4 in the run up to launch? And who are these blue creeps, anyway?"
A good question.
For the worldwide campaign, Intel has chosen a performance art outfit called the Blue Man Group (BMG). Famous throughout small areas of the US, they are totally unknown anywhere else on the planet. Perhaps they were cheap.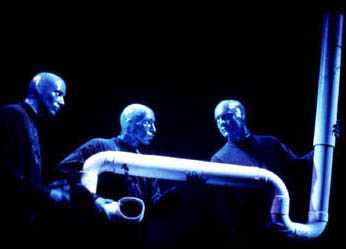 According to BMG's website, "Blue Man Group is best known for its award-winning theatrical productions which critics have described as 'ground breaking', 'hilarious', 'visually stunning' and 'musically powerful.' These performances feature three enigmatic bald and blue characters who take the audience through a multi-sensory experience that combines theatre, percussive music, art, science and vaudeville into a form of entertainment that is like nothing else.
"The show is completely accessible to children age 6 and older, and many families do attend, however there are two bad words in the text." ['Intel' and 'advertising'? - Ed]
It was indeed careless of BMG to omit to tell Intel that the troupe features in a lengthy promotion on Apple's site, where they extol the virtues of the Power Macs they use in their stage performances.
When leaving Intel's website to visit the wacky funsters at BMG, you are warned that you are leaving the Intel site and that "the content of the Web site you are visiting is not controlled by Intel. This link is being offered for your convenience and should not be viewed as an endorsement by Intel of the content, products or services offered there."
Too bloody right, mate.
If you have a strong constitution, you can sample the two hilarious Intel ads here.
Don't say we didn't warn you. Come back, Bunnypeople, all is forgiven. ®