This article is more than 1 year old
Microsoft honours Linux programmer with patent gong
You can't make this stuff up
In what must be one of the most surreal stories we've ever covered, Microsoft has awarded a Linux devotee with one of the company's most coveted patents awards -even though the recipient has never worked for Microsoft.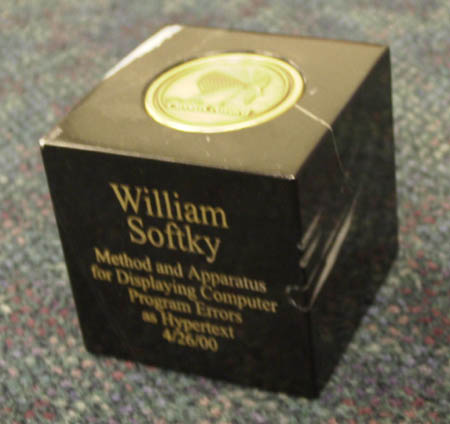 The story begins with work done by Intrinsa software developer Bill Softky on the Valley start-up's much-lauded software analysis tools. These let developers find bugs in software that might otherwise appear only through traditional regression testing.
Intrinsa created a virtual environment for a program in the build process, plotting multiple execution paths that could uncover memory conflicts and other errors without manual intervention. And the software was lauded by Cisco (a major customer) and Sun Microsystems in its brief life as a commercial product.
Softky himself devised a way of presenting this information to the user, and his patent is under consideration by the US Patent Office: one of several filed by Intrinsa. However Intrinsa was subsequently bought by Microsoft, with most of the development team moving to Redmond. But not Bill.
Now, Microsoft duly honours its patent-holders with an award, and the patent in this case fell into its lap with the purchase of Intrinsa. As ever, true to its word, Microsoft obliged by dispatching the gong - an inscribed cube to Softky.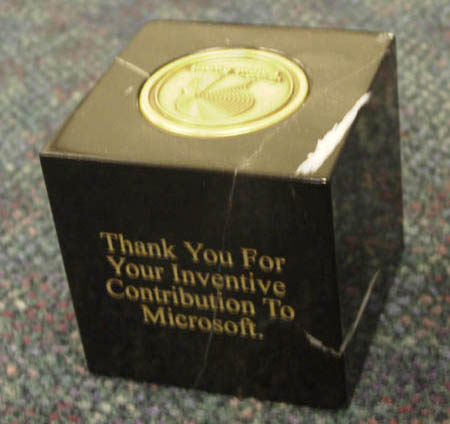 "Thanks for your inventive contribution to Microsoft..." reads the inscription. The irony isn't lost on Softky, who runs Linux at home and has does his development work on the free software OS.
"To me, they're the Evil Empire. They're the Borg!" says Softky, who refused to be assimilated, and now works for a digital imaging company in the Valley.
But, we wondered, wasn't it a little ungrateful to keep an award given to him by a company he loathes? Shouldn't he do a John Lennon, and return the gong?
"It's kind of a badge of honour", he told us. "And anyway, I've got a much too perverse a sense of humour to give anything like this back!"
But he may have unintentionally gotten his revenge already. The much-reported 63,000 'bugs' in Windows 2000, which leaked out to spoil the launch of the product, were unearthed in large part through the Intrinsa software that he helped write.
Bill regrets that the Intrinsa software has, since its acquisition, been used by Microsoft internally only, and has yet to be incorporated into Visual Studio. Or Intrinsia.NET, or whatever Redmond calls it these days... ®