This article is more than 1 year old
Lucent's Inferno does a Java
Embeddable browser applet fun
The Inferno OS has parked a heavily-armoured tricycle on Sun's lawn. Lucent spin-off Vita Nuova, which also markets the Plan 9 system, has made an Inferno plug-in for Microsoft's Internet Explorer to run downloadable code.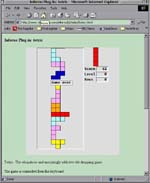 Vita Nuova has also made some sample Inferno plug-ins available, including the Tetris game, as you can see in this screenshot. Inferno applications are written using the simple Limbo language: which is refreshingly like C, but depressingly like Pascal. The plug-in itself weighs in at 700KB.
Inferno was developed by a team including Unix co-creator Ken Thompson and co-author of the C language, Dennis Ritchie. Licensees can modify code and distribute code to other licensees. Academic subscriptions start at $100.
On a related note, there's a short but very pithy, and very sweet interview with Dennis Ritchie over at LinuxWorld. He gives his opinion on the first revision the C language spec for ten years: "Of the new things, restricted pointers probably are a help; variadic macros and bool are just adornment... I'm less ecstatic about the C99 standard, but don't denounce it. They did a pretty good job; C does have to evolve," he says. He and Kernighan haven't comitted themselves to updating the famous C 'White Book' just yet. ®
Related Link
Read more here