Register launches VultureFone™
Vulturise your mobile phone!
---
How's this for a Christmas treat? Want to give your mobile phone that Register touch? Then customise your phone with your favourite newssite's Vulture logo.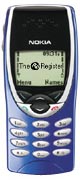 Those clever guys at WapMX, one of the UK's leading WAP and SMS developers, have put together a way of beaming the Reg logo via SMS.
You can send the logo to your phone as your handset's operator graphic - it gets rid of Orange's, Cellnet's, Vodafone's et al's logos and make it look like The Register is your cellular provider! We're not, of course - that's just the way it looks on screen.
Just enter your details below, and make your selection, and click on the 'Registerise' button. Please note that the service only works with Nokia phones, and you use it entirely at your own risk. If you're in any way worried about the service's effect on your phone, or you don't want the logo, don't click the button.
When the logo is sent, your phone will beep and ask you to save, view or discard the new logo.
To remove the logo, resend it, but this choose another operator.
Powered by WapMX SMS Server
For more information, email WapMX
The Register and Situation Publishing provide the service free of charge, as is and without warranty, and no support will be provided. No charge is made for sending the logo, but your local service provider may levy a fee for its transfer. By requesting the logo, you agree to pay any such fee and to make no demand for payment from Situation Publishing or The Register. Before changing your phone's graphics, please obtain the permission of the phone owner. Changing the operator logo on your phone does not imply a change in service provider.