The next version of Palm's Palm V PDA has unexpectedly made its debut on the Web.
An anonymous leaker sent the pic to PalmStation.com, which is understandably sceptical about its authenticity. After all, doctored piccies purporting to be next-generation PDAs turn up all the time.
However, we think the site may have something here. We don't deny the colour screen looks a tad Photoshopped-in, but that's even true of Palm's own official PDA pictures, simply because LCDs, be they greyscale or colour, don't photograph too well.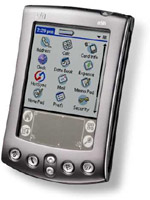 From the pic, we can see that the new V will be called the m505, following the naming convention established with Palm's exsiting consumer-oriented PDA, the m100. Since the colour machine is expected to be called the Vc, choosing m505 for a fake pick shows a level of imagination beyond most fakers. The m505 sports a more silvery shell than the V, with silver application buttons, a grey power switch and a reversed-out data entry panel.
The latter, we note, sports a small circle in the top left corner, which we've only seen on the m100 before. We also note that the machine sports a NotePad application, which is currently available on the m100, but not other Palm machines. It also contains the m100's Clock app.
Now since all these apps only appear on the monochrome m100, not the colour IIIc, if the pic is a fake, it's a damn clever one - we're not talking cutting and pasting from different screen shots here.
The m505's case is subtly more curvaceous case than our V.
If it is a fake, we reckon it's simply a mix between a new, monochrome m505 and another new colour PDA - in short the screen and shell pics are genuine, they just don't go together.
We may be right, we may be wrong. The upcoming CeBIT show in Hannover, Germany, at which the new Palms are expected to be unveiled, will tell us. ®
Related Link
PalmStation.com's m505 story
Related Story
Palm pegs CeBit for next colour PDA launch