This article is more than 1 year old
Corel in transcendental makeover
Excuse me while I kiss the sky...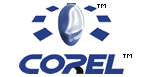 When a company has a corporate makeover, it indicates one of three things:
It wants to get in touch with the child within
Its logo has offended the religious sensibilities of some potentially lucrative market
It's in financial difficulty.
In the event of the latter, the rebranding is known technically as 'shifting deckchairs on the Titanic', and was a sure sign that telecoms kit manufacturer Lucent was in trouble. Then there was all of the Computer Associates malarkey, a company that fits none of the above categories (there isn't one for getting in touch with the beast within, is there?)
Now Corel has announced a revamp, complete with new logo. It's not just a logo, though - it's a complete philosophy in a gif. Take it away, Robert Travers, Creative Director of Corel's inhouse Agency:
The logo was reworked to modernize it, with the goal that it would mirror the new corporate direction. The choice of font and colours reflects this evolution.
The logo was inspired by what I call the moment of inspiration. It happens when what you're working on starts to come to life. You lose yourself in your drawing and time has no real meaning. You become at one with your surroundings, yet you are lost within them. You are at peace, yet you have a rush of adrenaline. These dualities inspired the use of the yin yang element in the shape of the head.
This astounding piece of fiddling while Rome burns was written no doubt to the sound of whalesong and the pungent aroma of joss sticks. Things must be bad.
You can read the whole press release here. It's not for the faint hearted. ®
Related stories
Computer Associates shows its true colours
CA is 'friendly, open, trusted'