This article is more than 1 year old
Apple fobs off non-US iMac buyers with lesser CPU
US gets faster 500MHz machines than rest of world
European and Japanese buyers of the new 500MHz iMac should beware - they're going to get and older, less powerful version of the PowerPC chip than their US counterparts.
When we originally wrote up the specs of the new iMacs, unveiled by Apple CEO Steve Jobs on Wednesday during his MacWorld Expo Tokyo keynote, we noted that the 500MHz and 600MHz models sported new IBM G3 class processors - the PowerPC 750cx, to be precise - which ship with 256KB of L2 cache on the chip itself. The 400MHz iMac ships with a lesser G3, Motorola's old PowerPC 750, with no on-board L2, but 512KB of cache memory in backside configuration.
The difference? The on-die cache runs at the same clock speed as the processor core, while the external L2 runs at a fraction of that rate - 160MHz in the case of the 400MHz iMac.
Then we got an email from Apple UK pointing out that the previously published spec. was wrong - the 500MHz machine doesn't ship with 256KB of L2 running at 500MHz, but 512KB running at 200MHz. That's a tacit admission that the 500MHz contains an old PPC 750 with the L2 in backside configuration. In other words, only the top-of-the-range iMac Special Edition has the newer, faster IBM processor.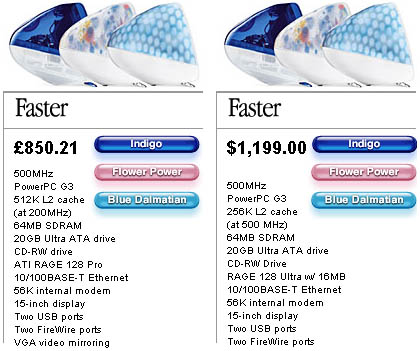 Pics from the UK (left) and US AppleStore.
An easy mistake to make we thought, until eagle-eyed
Register
readers pointed out the US AppleStore
is
offering a 500MHz iMac with the 256KB of on-die L2, ie. it's based on the 750cx not the 750.
And it's not just the CPU that's different. The US 500MHz iMac contains ATI's Rage 128 Ultra with 16MB of video memory - the UK version only offers the Rage 128 Pro with 8MB of RAM.
Worse, customers in the UK appear to be paying the same amount for the new 500MHz as they would have had it contained the better chip and more graphics RAM.
How much performance is lost through the lower spec. isn't yet known - the benchmarks have yet to be taken. Adding the L2 cache to the chip die is all about increasing performance and... er... that's it. We're also puzzled as to why Apple should have made such a move anyway. There's no particular shortage of 750xc chips so far as we're aware.
We're waiting to hear Apple's reasoning behind the change.
Frankly, it's hard not to see the move - as many of our readers certain have - as a sign that Europe is somehow less important to Apple than its home territory. We're sure that's not the case, but Apple's different iMac specifications certainly won't help persuade the doubters. ®
Related Stories
Apple intros CD-RW, 'technicolor yawn' iMacs
Apple gets Nvidia GeForce 3 first
Mac desktop sales slide 62 per cent