Eurosport.com scores headline profanity sensation
'F*cks off to Benfica' - Official
---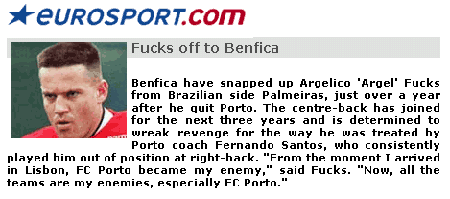 Let's imagine that you are a lowly hack reporter for Eurosport.com, consigned to a daily grind of banal football transfer stories.
Let's further speculate on what you might do in the unlikely event that a player called Argelico 'Argel' Fucks decided on a controversial move to Benfica. Were a player with such an improbable surname to make said move, the headline possibilities are limited.
Argel in Benfica move? Argelico in Benfica defection? No, complete nonsense. Ah, hold on a minute - I've got it: Fucks off to Benfica.
And since Fucks is indeed off to Benfica, what's the news editor to do? A great future in journalism clearly awaits the author of this snappy and eye-catching headline.®
Related links
You can witness the birth of a star journalist here.