Preview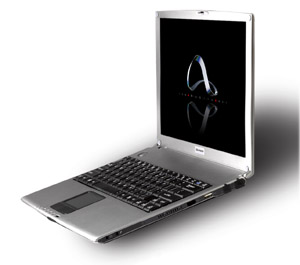 Sharp launched its ultra-thin 'Muramasa' PC-UM10 notebook in Europe today following the machine's Japanese debut back in June. Not that the company seems to have learned much in the meantime - the Muramasa has undergone very little change as it has moved from one market to another.
And for a notebook designed to offer "the optimum in mobility [and] connectivity", its lack of infra-red, 1394, 802.11, Bluetooth, DVD, CD and floppy support makes us wonder just how Sharp defines 'mobility' and 'connectivity'.
You can't fault the machine's look, though. Its aluminium shell and dark keyboard are decidedly reminiscent of Apple's Titanium PowerBook G4; its low-slung LCD harks to the Mac maker's iBook. Those two machine sport clever retracting case latches, something the Sharp lacks but goes one better: the Muramasa's keyboard sinks down into the 11.6mm body of the notebook as you shut the lid.
It sounds like a gimmick and it is, but this one does have a real benefit: raised, the keyboard's keys have a far deeper action than regular flat notebook keyboards have. For once, here's a modern notebook that's actually a pleasure to type on.
Not that the senior executives the notebook is aimed at will necessarily appreciate such a feature. They're more likely to be attracted to its 1.3kg weight and 16.6mm thickness - this is a very portable computer.
What makes it so are the components Sharp has left out. Ports are limited to a single USB, custom modem and Ethernet connectors, Type II PC Card slot and a proprietary data port which hooks the Muramasa to its optional port bar (legacy and further USB ports) or a VGA screen through the bundled converter cable.
Speaking of the visuals, the Muramasa sports one of Sharp's own 12.1in 'black' LCD panels for deeper blacks and more vibrant colours than regular notebook displays. The panel's driver is an ATI Rage Mobility M chip with 4MB of video RAM. That, says Sharp, is enough for 16 million colours, but we note that the small print says that's through a "dithering function" - in other words, it actually runs at 16-bit because memory is reserved for the VGA mirror.
Other aspects of the spec. show similar corner-cutting. The built-in 56kbps modem is actually done in software, so there's a processor hit. The Muramasa is bundled with a software recovery CD, but since Sharp has chosen not to bundle a CD drive, it won't be much use - nor will anyone be able to install extra software - without coughing up over a hundred quid for the drive.
Bit of a problem, that. The notebook is being sold as a personal productivity tool, but without the optional extra you can't install any personal productivity software on it. Muramasa will ship with Windows 2000, but no office software.
Executives looking to let of steam with a DVD movie or two will be disappointed to learn that there's no DVD option at all. Those more interested in mobile Internet access won't be able to use their cellphones' infra-red ports to allow the Muramasa to go online because the notebook doesn't have an infra-red port of its own.
Bluetooth connectivity was considered but rejected because there aren't enough connectable devices out there yet. An understandable conclusion that, but not one that puts Sharp in a position to ride that particular technology wave as it builds up over the next six months or so.
The Muramasa contains 128MB of PC100 SDRAM, connected to the main processor - an Intel Ultra-low Voltage Pentium III with 256KB of on-die L2 cache - via Intel's 440MX chipset and a 100MHz frontside bus. The CPU is clocked at 600MHz, but SpeedStep means you'll only get 300MHz when you're working on batteries. Sharp claims users will get at least three hours out of the Muramasa's slimline Lithium Ion power cell. The hard drive weighs in at 20GB.
The Muramasa will ship in Europe early next month. UK pricing is £1598 exc. VAT (£1878 with sales tax added). That's before you've spent the best part of three hundred quid on the essential CD drive, port bay and, perhaps, the floppy drive, all of which arguably should have been bundled.
Says Sharp's PR blurb: "[Muramasa] is the ultimate fashion statement for the PC conscious on the move." We'd agree - this notebook really is all about style over content. ®
Bootnote
'Muramasa', as Sharp is very keen (no pun intended) to point out, was the ancient Japanese sword-maker reknown for the sharpness of his blades. Muramasa's weapons were held to be the acme of swords, and every Samurai wanted one.