A social-media marketer is understood to be the first person to be hit with a federal fraud charge in the US for allegedly trying to trick people into investing in a bogus COVID-19 cure.
Keith Middlebrook, 53, of southern California, was this week accused [PDF] of committing attempted fraud by wire, radio, and television.
According to prosecutors, Middlebrook used his Instagram and YouTube accounts to post, since deleted, videos hawking phony cures for COVID-19, claiming to have developed both an injectable serum and a pill that would render people immune to the coronavirus disease. It is believed the videos racked up some two million views.
His Instagram account still lists him as "Inventor: COVID19 Immunity & Coronavirus Cure," we note.
Middlebrook, who presents himself online as something of a fitness and life coach as well as an entrepreneur with the title "the real iron man," is also accused of trying to drum up investments for his made-up medical venture by not only claiming to have a cure, and touting wild returns on investment, but also to have secured the backing of Los Angeles sports and entertainment icon Earvin "Magic" Johnson.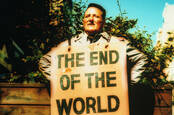 Drones, apps and packed lunches: The latest on big tech's COVID-19 response
READ MORE
"For an initial investment of $300,000, Middlebrook guaranteed a return of $30 million, which he said, was secured by a current $10bn offer from an unnamed buyer in Dubai," the complaint against him, filed in a central Cali federal district court, claimed. "For example, Middlebrook stated for someone who put 'in $1m would be looking at a $100m' return."
The scheme came to a halt when Middlebrook – of various addresses in Westwood, Newport Beach, and Murrieta – tried to deliver a package of his supposed coronavirus prevention pills to an undercover Fed posing as an investor. If convicted on the fraud charge, he faces a maximum of 20 years in the slammer.
The arrest and charge is, to the best of our knowledge, the first in a push by federal prosecutors to crack down on coronavirus scams, particularly those being spread over the web and via social media platforms.
"During these difficult days, scams like this are using blatant lies to prey upon our fears and weaknesses," said United States Attorney Nick Hanna while announcing the Middlebrook charge.
"While this may be the first federal criminal case in the nation stemming from the pandemic, it certainly will not be the last." ®
Similar topics