Google Labs passes Borges test
Considered experimental
---
Google has opened its kimono on some new labs work, soliciting feedback for four experimental features.
"These are experiments, we want people to play with them," Google's Nathan Tyler told us. An accompany FAQ stresses that the projects are in rough works-in-progress, suppported only by Google staff in their own time, and may be hauled offline at any moment for repair. "We ask for your indulgence if a demo refuses to run, or even walk quickly," according to the FAQ.
Nor is there a commitment that any of these will become real Google features. All that said, they're as fun as they promise.
The four are a Glossary, a Keyboard Shortcuts feature that allows you to hot-key through your search results - provided your browser is up to snuff - a dial-up voice interface and a Sets predictor.
You'll want to try the Keyboard Shortcuts feature right away. It's very addictive, a one-key alternative to tabbing your way through a page of results.
But even more impressive is the Sets feature. Google's popularity has been attributed to the fact that it doesn't try to classify the Web, unlike the Yahoo! directory, so here was a paradox right out of the box. How would it shape up?
The first attempt:- "Lettice" and "Magee" failed to produce a "Cullen". Or anything else. Then I offered this set of five to complete: "those that belong to the Emperor", "embalmed ones", "those that are trained", "suckling pigs" and "mermaids".
And the Sets pretty much hit the spot, finding fourteen entries:-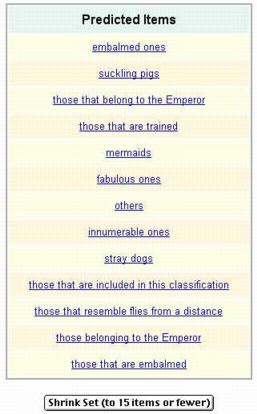 ...although "those that tremble as if they were mad," was omitted, and another entry duplicated.
You can find out more about this celebrated list at this fine site, and why it's popular with anthropologists: people who classify things. And stoners too. That made our day.
You can provide feedback on the four experiments at four new Google newsgroups.®
Related Link