Reg branded Yo-Yos – we kid you not
New year madness at Cash'n'Carrion
---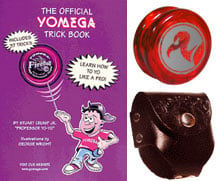 If we asked readers to nominate the most unlikely product for
Reg
branding, it's likely that a Yo-Yo would be close to the top of the list. And condoms of course, but that's stretching it a bit, even for us.
So, after due consideration, we decided not to penetrate the prophylactic market, but rather push back the envelope of merchandising with our magnificent new Register "Brain" Yo-Yo.
This high-tech bit of kit comes courtesy of US outfit Yomega. It's delivered in a fetching translucent red with crisp silver logo, and features Yomega's patented clutch system. This allows even the complete novice to wow his friends within minutes and to help you along, we're throwing in The Official Yomega Trick Book and leather holster for free. These two extras normally go out at £5.00, but you can have them and the Yo-Yo for the cost of the Yo-Yo alone - that's £12.77 (£15.00 inc VAT) for the lot.
And if that wasn't enough, we're pleased to announce that our BOFH logo and Bastard Operator t-shirts can now be obtained in a capacious XXL while stocks last. As previously noted, we'll be introducing XXL across the Cash'n'Carrion range, so we'll keep you posted. ®