This article is more than 1 year old
Teen delinquents laugh in the face of CCTV
Chilling footage shows blaggers' contempt for technology
Hopes that the extensive deployment of CCTV cameras in high streets the length and breadth of the UK would see an end to violent criminal behaviour by teen ne'er-do-wells seem to have been dashed.
A chilling report in This is Kidderminster details how a laughing gang of delinquents filmed themselves on such a camera in Stourport, Worcester, before wrenching the apparatus from the wall and melting back into the shadowy Stourport underworld.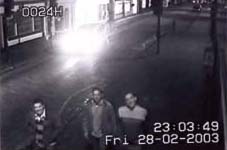 As the still on the left shows, the youths appear unconcerned that their orgy of destruction is being recorded for posterity. However, they may have cause for reflection when they learn that the camera was attached to a dry cleaners belonging to one Brian Glass. Mr Glass is a "Wyre Forest district councillor, portfolio holder for the crime and disorder reduction partnership and the chairman of both Shop Watch and the Community Safety Partnership".
Mr Glass - adopting the sort of icy tone favoured by Charles Bronson in Death Wish - warned: "I want the names of the people who stole my camera. It cost £1,000 and I want the perpetrators brought to justice."
The local police are appealing for the quartet of master criminals to come forward voluntarily. In the circumstances, this seems wise. Anyone who knows these four blaggers can contact Kidderminster Police on 01562 820888. ®