This article is more than 1 year old
Adam Osborne 1939-2003
Portable Computing Pioneer
Obituary Adam Osborne, pioneer of portable computing, has died after a long illness. He was 64.
Osborne achieved fame as the founder of Osborne Computer in the early 1980s, which launched the first ever portable computer, the $1795 Osborne 1, in April 1981. Designed by Osborne but made to work by his Osborne Computer co-founder, engineer Lee Felsenstein.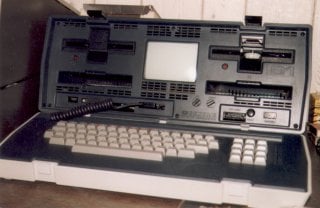 The bizarre looking beast looked sported a tiny 5in, 24x52-character monitor, flanked by two 91KB 5.25in floppy drives, all revealed by the fold down keyboard. It contained 64KB of memory and 4KB of ROM. Based on a 4MHz Zilog Z-80A - along with CMOS' 6502, one of the two processors of choice for 8-bit computing - the Osborne ran the CP/M 2.2 operating system. It weighed 23.5lbs (12kg).
In another first, the Osborne 1 shipped with a heap of software: WordStar, SuperCalc, dBase II, and two versions of BASIC: CBASIC and MBASIC.
In 1981, Osborne sold $5.8 million worth of Osborne 1s. By the end of 1982, he had sold $68.8 million - around 10,000 units a month on average.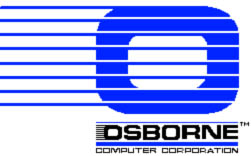 But having risen to prominence as a computing innovator, Osborne as quickly found notoriety as the industry's first victim of pre-announcing unready products. In 1983 he revealed that his company was working on a much two new models - the Vixen, a smaller version of the Osborne 1, and the Executive - he effectively killed sales of the current model. The Executive was to feature an 80-character display and a built-in hard drive.


To be fair, his failure appears to have resulted as much from the technology press' eagerness to break non-disclosure agreements.
Starved of essential capital, and with piles of unsold Osborne 1s filling up warehouses, Osborne Computer collapsed. The company was declared bankrupt on 13 September 1983, less than three years after its formation.
Following the collapse of Osborne Computer, Osborne published a best-selling memoir of his experiences, Hypergrowth. Later, he formed Paperback Software to offer software at paperback book prices. Alas, his spreadsheet was deemed to resemble Lotus 1-2-3 too closely - it was alleged Paperback ripped off 1-2-3's whole menu structure. In January 1987, Lotus sued, alleging copyright infringement, and on 28 June 1990, Osborne lost. He left the company later that year.
Osborne was born in 1939, in Thailand, the son of British parents, and he spent most of his childhood in Southern India, a place he returned to in 1992 following a decline in his health, and in which he died, on 18 March. He suffered from a brain disorder that triggered minor but frequent strokes. He had battled the disease for more than ten years.
Schooled in England, Osborne graduated from Birmingham University in 1961. He travelled to the US to complete his PhD at the University of Delaware. Soon after he joined Shell as a chemical engineer. He eventually naturalised as a US citizen. In the early 1970s, he quit Shell and was given the task of writing a programming manual for Intel's first microprocessor.
In 1972 he founded Osborne and Associates to create a series of easy-to-read computing manuals - long before the For Dummies... series. By 1977, Osborne Books, as the company had become, had published over 40 computing titles. In 1979, Osborne sold the lot to McGraw-Hill in order to pursue a gap in the computing market: for a machine users could operate on the move. Backed by Silicon Valley VC Jack Melchior, and with the help of ex-Intel engineer Lee Felsenstein, Osborne Computer came into existence. ®
Related Links
Justin Mayrand's history of the Osborne 1
Famous Osbornes: an Adam Osborne biography