This article is more than 1 year old
Sony-Ericsson P800 smartphone
A Reg long-term test
Review Since the days of the Newton, I've been waiting for a killer gadget that combines the functionality of a good PDA with the communication abilities of a mobile phone. The Sony Ericsson P800 was launched into exactly this gap in the market with much fanfare. Does it live up to the hype? Well, no it doesn't, but it is a good solution to carrying all those phone numbers in your pocket, and it does a bit more too.
The P800 is a combined mobile phone, electronic organiser, MP3 player and camera in a package that's advertised as the "office in your pocket". As the owner of an aging mobile phone, an ancient Palm, a Rio 600 MP3 player and no digital camera, the P800 had the appeal of combining all these functions in a single unit that could edit documents on the move and maybe even surf the Web in extremis.
Its heritage is a good one: Sony's Cliés are superb Palms OS-based PDAs, and Ericsson has plenty of mobile telephony experience, though its user interfaces tend to be dodgy. The P800's OS - Symbian 7 - emerged out of Psion, the doyen of PDA makers.
The phone
The P800 is a sexy little beast. It comes in blue and silver and has a good solid feel. While chunky it's still small enough to be comfortable in your pocket. The stylus is cleverly clipped into the right side so that it doesn't fall out easily. There are buttons above the stylus to start the camera and phone. On the left side is an IR port, a headset plug and a jog dial. The front has a removable flip keypad that partly protects the 208x320 screen, the back has the hands-free speaker and camera. Inside, the P800 comes with 12MB RAM - there's a 16MB Sony Memory Stick Duo expansion card too - and a Bluetooth adaptor.
Now, I'm a bit lazy and can't be bothered to spend ages trying to get something to work, but happily the P800 is a lot less complicated than my video recorder. The user guide is clear, but the gadget is so simple to use that it hardly needs one. The interface is intuitive, and dialogs, control panels, tick boxes et al do what you'd expect. When you switch it on, the P800 gives you a choice of operating in "flight mode" which means the phone is switched off but you can still play games or MP3s, or read documents, conserving battery life.
When the phone is switched on, it doesn't seem to get great voice reception, but that could be my telco. People I call tell me the microphone isn't great either. The phone application does what you expect and you can associate a speed dial with people in your address book. However, if they have more than one number, you can't tell which one is on the speed dial. So to have 'Jack (Home)' and 'Jack (Work)' you need to make two separate entries in your address book. Not very elegant.
The tabletop hands free facility is just loud enough to be useful and the bundled stereo headset/microphone is good. My only gripe is that the phone flip doesn't do what you expect. Opening/closing the flip doesn't always answer/end a call, but rather switches the hands-free speaker on/off. Except sometimes it does answer/end a call. You get used to it - eventually.
The Organiser
The P800 offers contacts, calendar, tasks, e-mail and jotter applications. These functions are sufficiently well done and do what you'd expect, in the way you'd expect. Mostly. There's a problem if you try to phone or SMS an address book entry that has a country code in the phone number. The phone fails to strip the leading zero from the area code, so the number won't work (there's a similar problem with the Orange Smartphone). Stripping all the leading zeros out of my phone book is going to be a pain.
Another significant problem is that alarms don't work when the phone is off. I used to use my mobile as a travel clock, switching the phone off before bed and having it wake me up at the appointed hour. But when the P800 is off, it's off - no alarms work. And if you've missed an alarm or task while it's been off, it doesn't tell you.
The synchronisation, file transfer and back-up software that installs on your PCs works very well. The P800 comes with a USB cradle which syncs and charges quickly, which is handy because I found that the typical battery life is just one to two days - a lot less than advertised. Plugging the phone into the cradle allows the phone's files to be viewed directly through the host PC's desktop and the transfer of files is seamless and fast.
The P800 has a Bluetooth interface but so far I've not managed to find anyone else who has one so I couldn't test it. It also has a similarly redundant IR interface. Why do they keep putting these interfaces into phones and PDAs? I've never met anyone who uses IR, though I guess Bluetooth would be handier. Wi-Fi/802.11b, as per the Tungsten C, would be useful for the places I visit.
Syncing tasks, the calendar, email, the jotter and contacts with Outlook typically takes 2-3 minutes, though Outlook 2000 asks you to give permission for access to its files, so I switched off the "auto-sync on dock."
Creating tasks or contacts on the P800 is quick and easy. The touch screen is accurate and though the handwriting recognition is hopeless, you can pick at an onscreen keyboard at a good pace. The jog dialler makes selecting from lists and scrolling a doddle.
E-mail and Internet
E-mail is bundled in the same app as SMS and MMS messaging, though for no obvious reason the e-mails routed through your PC sometimes aren't sent after synchronisation. Writing short e-mails is practical using the on-screen keyboard, and reading e-mails is fine. Sending and receiving SMS messages is a dream.
One of the expected functions of an integrated PDA/cellphone is that you can surf the Web. The P800 is a GPRS phone so you can connect to Internet services at a reasonable speed. The P800's Opera browser works pretty well, though a landscape view option would help. GPRS configuration is automatic via SMS when you demand it from the telco. After a re-start, the phone tells you your GPRS signal strength and you can surf at a comfortable pace. I haven't tried sending e-mails via GPRS as this seems rather expensive - you pay for the amount of data sent, not the time you spend connected.
MP3s and the camera
The MP3 player is very basic and suffers from major flaws. The machine comes with only 28MB of free memory, so to pack a CD of music onto your P800 you're going to have to shell out another £65 for a 64MB Memory Stick Duo - if you can find a shop to sell you one. Every week the shops promise they'll have them soon, but so far no joy, though some of the online retailers are listing them, as is eBay. Ironically, Memory Stick Duos are not available through the Sony or P800 websites.
The player app is very primitive, though the sound quality through the bundled headphones is good. There's no play list editing facility, so tracks play in alphabetical or date order which is ludicrous.
Finally there's the problem that the P800 is a bit of a brick and doesn't have a belt clip so if you want to go jogging with it as your MP3 player then you'll have to shell out for the "business pack" which includes a leather case with belt clip.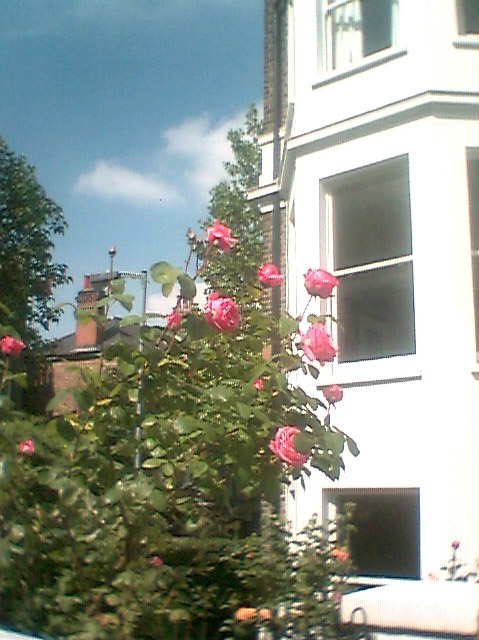 Then there's the 640x480 camera. Oh dear. Think of a web cam, a really cheap web cam that you got for 70 per cent off in a mid-season sale and you've got it about right. It's got no depth of field and near-field images are spherically distorted. In full daylight it will take a half passable picture, indoors by day it'll take a terrible picture and in artificial light you get a red and black square. So forget any ads you saw with people taking pics in nightclubs and bars. The P800 would genuinely be better off without its camera - it'd be lighter and cheaper and the advertising men could be less economic with the actualité.
The office in your pocket?
Now the really bad news - the much advertised "Office in your pocket" is not a realistic use of the P800. You can't edit documents, period. The P800 comes with an application called Viewer which is supposed to let you read most Office or Lotus documents, Acrobat documents and text files in general, but there's no editing. Furthermore, while strictly speaking the Viewer will render most documents on the P800's tiny screen, often the documents are unreadable.
The text is rendered slowly and sometimes inaccurately, with characters overlapping. Viewer copes best with word processor and text documents, reformatting the text to fit the narrow screen. An option to view in landscape mode would be an obvious improvement as would an option to go full screen rather than filling 30 per cent of the screen area with irrelevant menu bars. Lack of these simple features betrays a paucity of attention to detail in this aspect of the P800's development.
The Viewer is weaker with spreadsheets where it crushes the text together so it's unreadable, but does a reasonable job on presentation files though complicated graphics leave it churning. Where the Viewer really falls down is with Acrobat files. These are totally unreadable - the rendering is poor and much too slow, to read the text often needs left-right scrolling but the slow rendering makes this impossible, the characters overlap except at the highest, slowest resolution and any remotely complicated graphics will crash the phone entirely. Since I'd hoped to be able to read the occasional scientific article on the train, this is a real disappointment, but there is hope. Adobe has written an Acrobat Reader for Symbian 7-based Nokia phones and with a bit of luck it'll port the app to the P800.
There are third-party document readers for the P800, such as MobiPocket, which do a better job of allowing you to read Office documents, but require you to convert them to eBook format first. Sad to say there is no prospect of the excellent DataViz Palm application Documents to Go, which does let you edit Office documents. DataViz says it has licensed some of its older technology to Symbian, but DtoG isn't on the list.
Overall
Reading through the gripes you'd think I hated the P800, but actually this really isn't so. The problems are annoying when you realise that you're not getting what was advertised, but the good features of the phone shine through. Hopefully some of the problems will be corrected in future Symbian OS updates. The only major flaws are the small memory that effectively makes the built-in MP3 player useless, and the inability to edit documents or read Acrobat files. Editing may someday come if anyone writes decent software for the machine. Sadly most of the apps that can be bought right now through the official website, www.sonyericsson.com/handango/ are lamentable tosh of the biorhythm variety.
Having had a P800 for a some weeks now, I'm glad I bought it. I'll buy a memory expansion pack when they can be had so the MP3 player is usable. Syncing and data transfer with the PC is excellent and SMS handling is great. OK, so the P800 is overpriced, the lack of attention to some details is disappointing, and if you need to edit documents on the go then get an XDA or a Palm Tungsten. But if you want a nicely designed, slightly chunky phone that can take your whole phone book, surf the web, play MP3s, read and write e-mails and is very straightforward to use, then the P800 will please. The sad part is, it's a good device for very few of the reasons advertised. ®
Rating
70%
Pros

Excellent organizer functions
Seamless file transfer to PC
Excellent SMS handling
Good hands free use
Very easy to use

Cons

Over-priced
Too little memory
Bit chunky
No document editing
Document viewing poor
Camera hopeless

Price
From £150 to £420 depending on airtime plan
Initial impressions are all very well, but what's really useful are the thoughts of users who have been able to get to know all the idiosyncrasies, strengths and weaknesses of new products by using them in real life, for some time. If, like Iarla, you've tried a new product and have had the chance to use them in earnest for a few months or more, The Register wants to hear from you. If you're interested in sharing your long-term test experiences with other Reg readers, please drop us a line.