This article is more than 1 year old
ReplayTV to forbid ad skipping
New owners, new values
The single most distinguishing feature of ReplayTV, namely its ability to skip commercial propaganda automatically, will be dropped from the next line of DVR boxes, Reuters reports.
"Due in August, the new ReplayTV 5500 series will remove the 'Commercial Advance' and 'Send Show' options present in models that are currently for sale," the wire service says.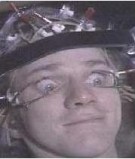 An impoverished US television broadcast industry had sued ReplayTV's former owner, SonicBlue, with piteous claims that allowing viewers to skip adverts would siphon off the media colossus' lifeblood and so destroy the artistic creativity for which it is so justly famous.
The suit also decried the 'send show' feature, which broadcasters likened to a mechanism of mass piracy, though it is configured to allow ReplayTV users to send shows only to other ReplayTV users, and only one at a time.
ReplayTV's new owner, Japanese outfit D&M Holdings, will not be altering the 'pause and resume' feature or preventing users from manually fast-forwarding through commercials. For now, the broadcast industry seems content to allow consumers to skip ads manually or, if they prefer, to leave the room while they're playing, though for how long is anyone's guess. ®
Related Story
US TV biz sues ad-zapping SonicBlue