Handspring is set to unveil its new Treo 600, a slimmed-down version of its combined phone and organiser, expected to sell in Europe and the US later this year.
The company, which is in the process of being acquired by industry rival Palm, is aiming at the enterprise market with the Treo 600 line, a smaller, more phone-like device than the earlier model, the Treo 300.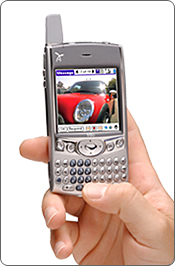 Handspring sales slipped badly during 2002, but the company is now hoping to wow consumers with a host of new features, including picture caller ID, and it is also working more closely with mobile network operators to customise the device for their needs.
Handspring is working with Sprint in the US and Orange in Europe to distribute the Treo 600, which abandons the flip-phone design of past models. In addition to featuring a smaller form factor, the device has an expansion slot for portable memory and it includes a built-in camera. The picture caller ID function means the phone will display a stored image of the incoming caller, if available, instead of just the caller's name or phone number.
The operating system is Palm OS 5, running on an ARM processor, and Handspring says the device has longer battery life, a better colour display and an on-board Web browser that can cope with JavaScript-enabled Web sites. More details of the phone are expected in a company announcement today.
Handspring has indicated that the Treo 600 will sell at a premium to the current line; industry watchers expect a price point of between $400 and $500, with phones available in the US and Europe by late autumn or early winter.
Palm announced plans to purchase Handspring in early June in a stock deal worth around USD169 million, and the two companies are hoping to save around USD25 million by consolidating their manufacturing facilities and other operations.
The acquisition announcement came as Handspring has been coping with a downward slide in its fortunes: in March its third-quarter net loss increased nearly five-fold over the same period in 2002 to more than USD90 million, and the company saw its once-popular devices lose favour with the market throughout 2002.
According to worldwide PDA shipment figures from Gartner Dataquest, Handspring's shipments collapsed during 2002, plummeting 49 percent over 2001 to just 700,000 units. The company will be hoping its Treo 600 line can achieve a reversal of fortune for Handspring. ®
Handspring Treo 600 sneak peek press release