Toshiba has launched a 17in notebook into the European market in a bid to catch up with Apple's technology lead.
The Satellite P20 series (in the US it's the P25 series) is - surprise, surprise - aimed at the desktop replacement market. Models within the series are based on the Pentium 4 processor, clocked at up to 3.06GHz and running an 800MHz effective bit rate frontside bus.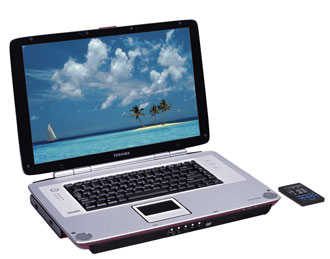 Each machine ships with at least 512MB of DDR SDRAM, up to 80GB of 5400rpm hard disk space. The P20 also sports SD card slot, TV out, IrDA, 10/100MBps Ethernet, 56Kbps modem and a 1394 port. Unlike the US P25, the European P20 doesn't have integrated Wi-Fi.
Every machine, says Tosh, has "DVD-burning capabilities" thanks to DVD-RAM and DVD-R/RW drives. The company has "added desktop publishing on a big, widescreen ratio display" to the list of applications its machines are suitable for. Thanks to the HyperThreading-enabled CPU, the notebook is ideal for "making your own music". There are even built-in Harmon Kardon speakers. If that's not signaling Tosh is after Apple, we don't know what is.
But what of the display itself? It's a 1440x900 - just like the 17in PowerBook. The Toshiba's screen is powered by an Nvidia GeForce FX Go 5200 graphics with 64MB of dedicated DDR video memory (though the web site says 32MB), which is, it has to be said, rather better than the PowerBook's GeForce 4 440 Go chip.
The Apple makes up for it in portability, however. It weighs 3.1kg to the P20's 4.5kg, and is 2.6cm (1in) thick. The Toshiba is nearly double that: 4.7cm (1.9in). It's also bigger: 41.9 x 29.3cm (16.8 x 11.7in) to the PowerBook's 39.2 x 25.9cm (15.4 x 10.2in).
We'd say the Tosh isn't as stylish, either, but we're sure some of folk will prefer the P20's looks over the aluminium PowerBook's.
It's hard to see anyone not preferring the P20's price, however, which at around £2199 ($3550) is four hundred pounds cheaper than the Apple, which is currently priced at £2599 ($4196). That gives you built-in Wi-Fi and Bluetooth, but 20GB less hard drive space and, as we've said, a lesser graphics chip. But is does look nicer...
The P20 ships later this month. ®