Motorola yesterday launched its first Linux-based smartphone into the Far Eastern market.
Announced last February, the A760 uses Linux as a core operating system, on top of which Java provides a multimedia application framework. Software that ships with the device includes a PDA-style personal information management suite, a video player, music player, an instant messaging tool and more.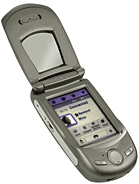 The A760 uses a flip-top design, looking not unlike a Handspring Treo, but minus the micro keyboard. In place of the keypad is a circular navigation button. The handset features an integrated digicam, and Bluetooth, Infra-Red and USB connectivity.
The handset made its Asia Pacific debut at the Taipei International Telecomms and Networking Show, one of nine new phones launched in the region yesterday. Among them was the first of the company's "secret weapons", the V690.
At the Taiwanese launch of the E365 handset a couple of weeks ago, local Motorola chief Tom Hsiao told reporters that the company had "two secret weapons" in the pipeline.
The V690 appears to be the same handset built by Taiwan's Chi Mei Communication Systems (CMCS), codenamed 'Beethoven'. The clamshell-cased handset opens to reveal a 128x160 LCD on one half of the phone, and a navigation wheel and function button cluster above a numeric keypad on the other. The phone's antenna is built-in and hidden from view.
CMCS recently registered a similar handset with the US Federal Communications Commission (FCC), believed to be codenamed 'Chopin'. ®
Similar topics