This article is more than 1 year old
Packard Bell iXtreme takes pop at iMac
Plus: Dell's GeForce FX Go 5650-based notebook
Reg Kit Watch
Desktop PC
UK PC maker Packard Bell has introduced its latest iMac challenger, the all-white iXtreme. Unlike the Apple machine, the iXtreme is a two-unit system, with separate monitor unit and tower, but in addition to the white, curvaceous styling, the Packard Bell ships with a pair of spherical speakers.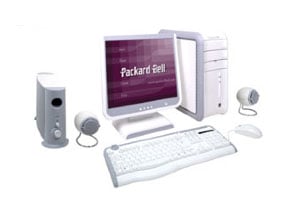 Not that the iXtreme lacks innovation. The monitor unit isn't simply a flat-panel LCD screen. In addition to the 15in TFT, Packard Bell has built in the optical drive, two USB 2.0 ports and a six-in-one memory card reader. Not all the available ports are passed through the monitor unit, however, and lower-end models incorporate a flat-screen CRT display, alas.
There are six models in the iXtreme 6000 series, offering between 256MB and 1GB of DDR SDRAM; 2.6GHz Intel Celeron, 2.6GHz and 2.8GHz Pentium 4, and AMD Athlon XP 2800+ processors; 80GB, 120GB and 160GB hard drive options; DVD/DVD-RW or DVD/CD-RW combo optical drives; and either a 64MB Nvidia GeForce MX 440 or a 128MB ATI Radeon 9200 graphics engine.
Wireless or wired keyboards and mice options are available. Some models also offer a 1394 port. Every machine has a 10/100Mbps Ethernet port and a built-in 56Kbps modem.
Prices range from £599 to £1199 including sales tax, and the iXtremes are now available from major UK retailers.
Notebook PC
Dell today introduced an Inspiron notebook incorporating Nvidia's GeForce FX Go 5650 graphics chips backed with 128MB of video memory and powering a 15.4in screen. Lesser chips from Nvidia and from ATI are offered too.
The Inspiron 8600 is based on 1.3GHz to 1.7GHz Pentium Ms with Intel's other Centrino platform components, including built-in 802.11b wireless networking.
The machine can be configured with 802.11b/g and 802.11a/b/g cards, and with Bluetooth. Up to 80GB of hard drive space are on offer, between 512MB and 2GB of DDR SDRAM, and either a DVD/CD-RW combo optical drive or a DVD+RW/+R unit. But every notebook comes with a two USB 2.0 and a 1394 port, a built-in 56Kbps modem and a 10/100Mbps wired Ethernet connector.
Available now in the US, the Inspiron 8600 family starts at $1699.
Hard drive accessory
Addonics has introduced Mini ExDrive, a enclosure kit that allows PC users to convert any 2.5in hard drive into an external Serial ATA unit.
Within the enclosure is an IDE port that connects to your hard drive. Electronics convert the drives output into Serial ATA format. If your system lacks external Serial ATA ports, Addonics will happily provide you with either a PCI or a PC Card add-in adaptor.
Instead of a bulky power adaptor, the drive gets all the juice it needs from the host PC's USB chain via a standard USB cable. However, Addonics also bundles a separate transformer if you prefer that approach.
The Mini ExDrive costs $55; Addonics' Serial ATA PCI adaptor is $37, the PC Card version $59. ®