This article is more than 1 year old
Samsung launches photo phones
Mini-flash and multi-shot capabilities
Samsung this week announced three new mobile phones, two of them with built-in camers. One of the models, the SGH-X600, has a 640 x 480 camera with a tilting range of 180 degrees forward and back, and is mounted on top of the phone, with an LED mini-flash located around the lens.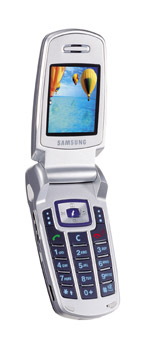 Weighting only 80g, the GPRS phone offers a 1.6in, 16-bit colour screen with 16-bit doubling as a viewfinder. It also includes Java games.
The SGH-E700 is a clam-shell style phone with a small external OLED colour screen and a bigger TFT LC display. The internal screen measures 1.8 inches. Samsung claims that the maximum picture resolution of 640 x 480 pixels outclasses most other telephone cameras. It also has a multi-shot feature, which allows mobile users to take up to 15 photos consecutively.
Users can edit their pictures in the phone by converting them to negative, black and white or sepia look, or even to pencil drawing. There are also numerous stored frames which can be included with a multimedia message
The third model, the SGH-X100, is a cheaper, 83g designer phone, with Java games pre-installed, a 1.6in screen and polyphonic ring tones.
All three phones, available in due course, lack Bluetooth. However, infrared communication is available.
Samsung told European continental press at a conference near Schwalbach (Frankfurt) that it is considering manufacturing iMode phones, but the company will not introduce them "unless iMode is a proven success". ®