This article is more than 1 year old
Motorola launches Symbian smartphone
A920 for 3
Motorola yesterday unveiled its first Symbian-based handset, the A920. The new smartphone is destined for the UK and Italy for use exclusively on cellular operator 3's 3G network.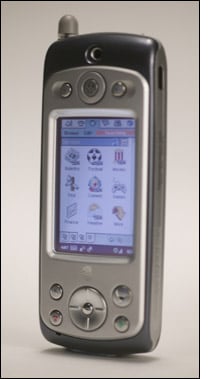 The A920 features a 208 x 320 16-bit colour screen, integrated 640 x 480 digicam, MP3 playback (it also supports AAC, apparently) and even a GPS location guidance system.
Below the screen is a Palm Tungsten T-style five-way navigation button and four function buttons, two for making and ending calls, the others for 3 services and the UI's home view, respectively. Two more buttons are positioned above the display, the idea being that users can turn the handset horizontally and use it as a two-hand gaming deck.
Games are written in Java and run in the Symbian OS' Java virtual machine. The phone uses version 7 of the OS and Symbian's UIQ user interface - just like Sony Ericsson's P800. In addition to maintaining the handset's communications sub-system, the OS also provides full PDA and multimedia functionality. The stylus is mounted into a slot on the back of the handset, by the way.
Motorola didn't say how much memory is built into the handset - we believed it's 8MB - but it can be expanded by up to 256MB using SD cards.
The handset is a tri-band GSM/GPRS/UMTS device operating at 900/1800/1900/2100MHz. It measures 148 x 60 x 24 mm and weighs 212g (7.48oz), so it's a fairly chunky beast.
The A920 will be available next month. 3 did not provide pricing. ®
Related Story