IDF Intel today introduced a version of its Pentium 4 chip aimed directly at game PCs - called the P4 Extreme Edition.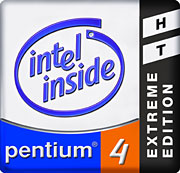 The "awesome" performance comes not so much from the chip's 3.2GHz clock frequency but the fact it contains an "extra" 2MB of cache, according to Intel VP and General Manager of the company's Desktop Products Group, Louis Burns at Intel Developer Forum. The chip also features HyperThreading technology.
That extra cache is all Level 3 - the chip itself contains 512KB of cache, as per the standard P4. Support for L3 suggests the part is essentially a Xeon MP marketed under a different name. Clearly corporate sales aren't what they used to be...
Xeon MPs typically sell for the best part of $4000. Intel didn't reveal EE pricing, but it can't be much more than Intel's classic new Pentium price point, $637.
As yet, the Xeon MP as yet doesn't run to 3.2GHz, or support a frontside bus with an effective bit rate of more than 400MHz, suggesting that the server-oriented chip will soon be upgraded to that clock speed and an 800MHz FSB shortly. Intel didn't say what EE's FSB speed was, but 400MHz isn't very "extreme" in our books.
While the new P4 raises the prospect of faster Xeons on the horizon, it also puts the concept of a multi-processor P4 on the table. Burns said that workstation vendors may be interested in the part, which would tend to confirm the EE's suitability for MP roles.
Burns confirmed that the EE is not fabbed at 90nm - so it's a 130nm part. He added that EE works with "the existing 865 and 875 [chipset] infrastructure", which is apparently more than can be said for the 3.2GHz Prescott.
Pentium 4 Extreme Edition will be available in a month to two months' time, with systems based on the processor in the same timeframe. ®