New Palm Tungstens debut on Web
Reseller lets slip specs, pics
---
Details of Palm's two new Tungsten PDAs have leaked out ahead of their official launch next week on 1 October.
The two models, the Tungsten T3 and E, have been anticipated for some time, but the leak fills in the missing details - and provides our first glimpse of the entry-level E.
The leaks come courtesy of UK PDA reseller C&A Electronics. The company's web site lists the E as a 32MB device - 28.3MB of which is available to the user - and containing a "fast" ARM processor. Beyond an SD IO card slot and the use of Palm OS 5.2.1, no other specs. are listed. However, the accompanying photo reveals a Tungsten T-style metal case without that model's familiar slide mechanism.
Instead, the Graffiti text entry area is unhidden. Beneath it is a navigator button, though this time it's oblong rather than round. A groove runs around it and across to the edges of the device. On either side are the usual application launch buttons.
We suspect the E is more rectangular than can be seen in the photo, which has probably undergone some unjudicious cropping, as this screen grab shows: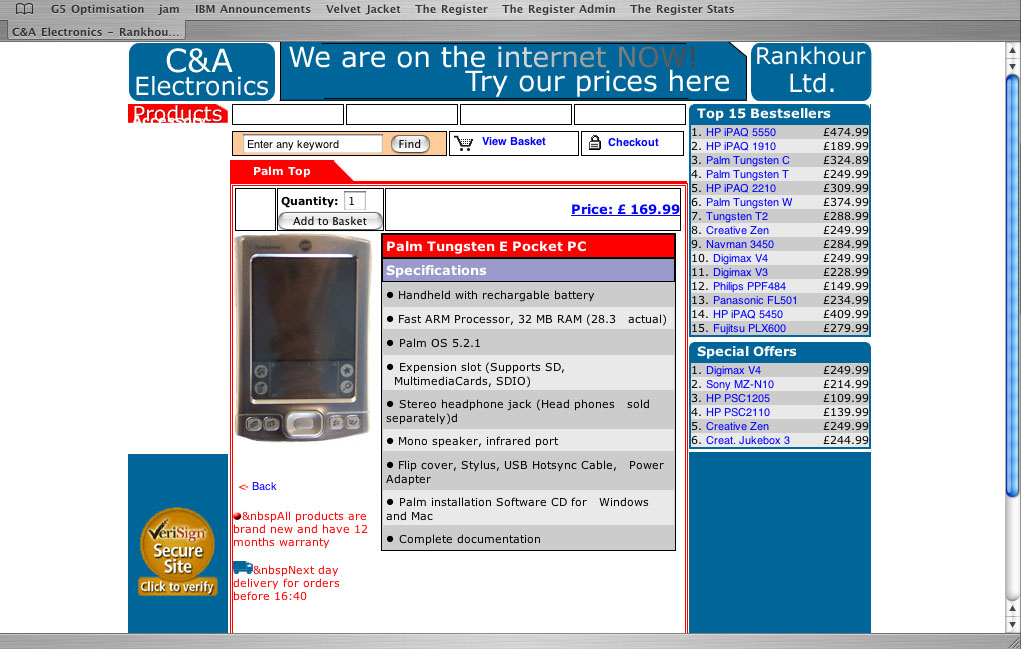 Click image for full size version

The T3 page shows a new image of the PDA, this time demonstrating its landscape screen mode. The accompanying specifications confirm the device contains a 400MHz Intel XScale CPU, 64MB of RAM, Palm OS 5.2.1, Bluetooth and the kind of software bundle you'd expect from such a PDA.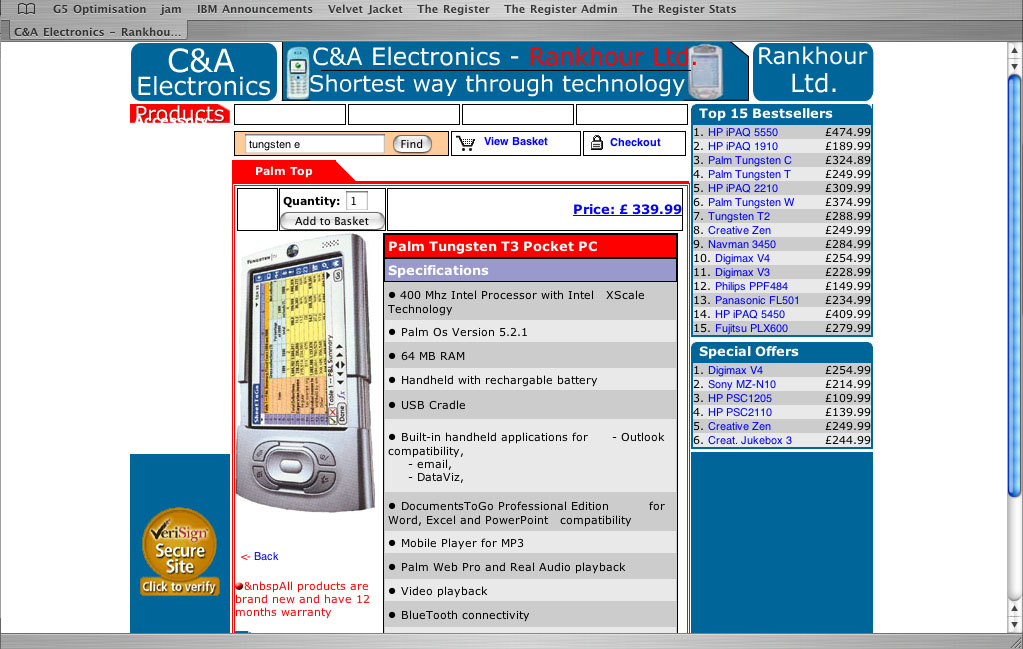 Click image for full size version
The T3 does posess a slider mechanism, to cover the Graffiti area, but with this Tungsten T, the applications buttons are curved around the central, oval navigator button.
Curiously, the speaker grille in the top-right hand side of the PDA's face has a zig-zag pattern rather than the original T's linear grille.
C&A is offering the T3 for £339.99 ($561.77) and the E for $169.99 ($280.87). We reckon the official retail prices will be slightly higher. The company claims to have both models in stock.
The site doesn't mention the Zire 21, the third PDA Palm is expected to launch next week. It's possible the company's UK wing is not releasing the 21 just yet, preferring to focus instead on the enterprise/executive-oriented products. Certainly details of next week's local product announcement suggest such a high-end focus. ®