This article is more than 1 year old
Sharp ships notebook with 3D screen
And Alphasmart preps Palm laptop
Reg Kit Watch
PDA
Palm OS licensee AlphaSmart has released a UK version of its lightweight Dana wireless Internet terminal.
Dana Wireless weighs just 0.9kg (2lbs) and measures 31.4 x 23.5 x 4.8cm (12.6 x 9.4 x 1.9in) yet packs in a full-size keyboard, 802.11b Wi-Fi adaptor and a 560 x 160 backlit LCD. Memory is limited to 16MB, alas, and it only runs Palm OS 4.1.2 - though it uses Graffiti 2, we notice.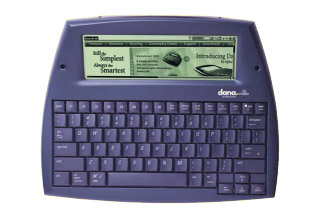 Alphasmart is touting Dana Wireless as a highly portable laptop alternative. The company includes its own DanaWeb browser, Mark/Space Mail and VeriChat, an AOL, Yahoo and MSN-compatible instant messaging app. Data Viz' Documents to Go 6.0 is bundled too, to provide native Microsoft Office file creation, editing and viewing, along with AlphaWord, the company's own word processor. That's in addition to the standard Palm PIM applications.
The machine's USP, however, is its battery life: up to 30 hours on a set of three AA batteries, though to that's presumably with the Wi-Fi radio turned off. Alphasmart bundles a rechargeable battery, which can be powered up via the bundled adaptor or from a PC's USB port.
Dana Wireless will be available from the middle of the month to UK buyers direct from Alphasmart for £309 (plus £10 P&P) excluding sales tax. A non-wireless version is also available, for £279 exc. VAT.
Notebook
Sharp has begun shipping its Mebius RD3D notebook in the US under the Actius brand name. The laptop, announced in September, incorporates two 15in LCD panels, one mounted behind the other, to create a true 3D display system.
Between the two 1024 x 768 screens sits what's called a 'parallax barrier', which essentially makes one display show an image for the left eye, and the other an image for the right. The two images are slightly different, but the observer's brain stitches them together into a single 3D image field. No special glasses are needed. The electronics controlling the parallax barrier can switch 3D mode off, allowing the screen to operate as a standard 2D monitor.
The screens are driven by an Nvidia GeForce 4 440 Go graphics chip with 64MB of memory. The notebook packs in a 2.8GHz desktop Pentium 4 processor, 512MB of DDR SDRAM and a 60GB hard drive. Optical storage is provided by a DVD-R/-RW/RAM unit that also offers CD-RW support.
Connecting the Actius with the outside world is just a matter of hooking it up to a phone line via the built-in 56Kbps modem or to a LAN using the 10/100Mbps Ethernet port. It also offers four USB 2.0 ports and a 1394 connector, along with Memory Stick, SD card, SmartMedia and CompactFlash slots. If you don't care for watch movies on the LCD, the notebook has analog RGB, mini D-sub 15-pin, and S-video outputs. Movie soundtracks can be played using the Actius' 5.1 channel virtual surround sound system.
The RD3D come complete with a software bundle to support its 3D and multimedia capability, including Sharp's own Smart Stereo Photo Editor/Slide Show, Dynamic Digital Depth's TriDef Movie Player and Personal CAChe for Windows, a chemical molecular modeling application from CAChe Group.
Sharp has also included collection of 3D movie trailers. Apparently, you can buy the feature-length versions on DVD-ROM, offered in Dynamic Digital Depth's proprietary 2D Compatible 3D TriDef format. But don't expect any major-league titles - certainly Sharp nor DDD can list any.
Available immediately, the Actius RD3D sells for around $3299. ®