This article is more than 1 year old
Apple UK confirms iPod add-ons launch
Commenting on unannounced product?
Apple UK has confirmed rumours that the Mac maker will introduce a set of iPod accessories, almost certainly later today when the company unveils the Windows version of iTunes and opens its iTunes Music Store to Wintel users.
"Rumours site" Think Secret has been touting such peripherals for some time, and yesterday cited sources who claim a microphone and a memory card reader will be among the items Apple will offers as iPod options. Apple will also ship a firmware update - taking the device's on-board software to version 2.1 - to allow the portable music player to use the new add-ons.
Alas, it appears only the latest generation of iPods can make use of the peripherals, but here's hoping.
The story is confirmed by Apple's UK online store which has a graphic on its front page advertising "Hot iPod Accessories". The player "now records your voice and stores more than tunes," it burbles.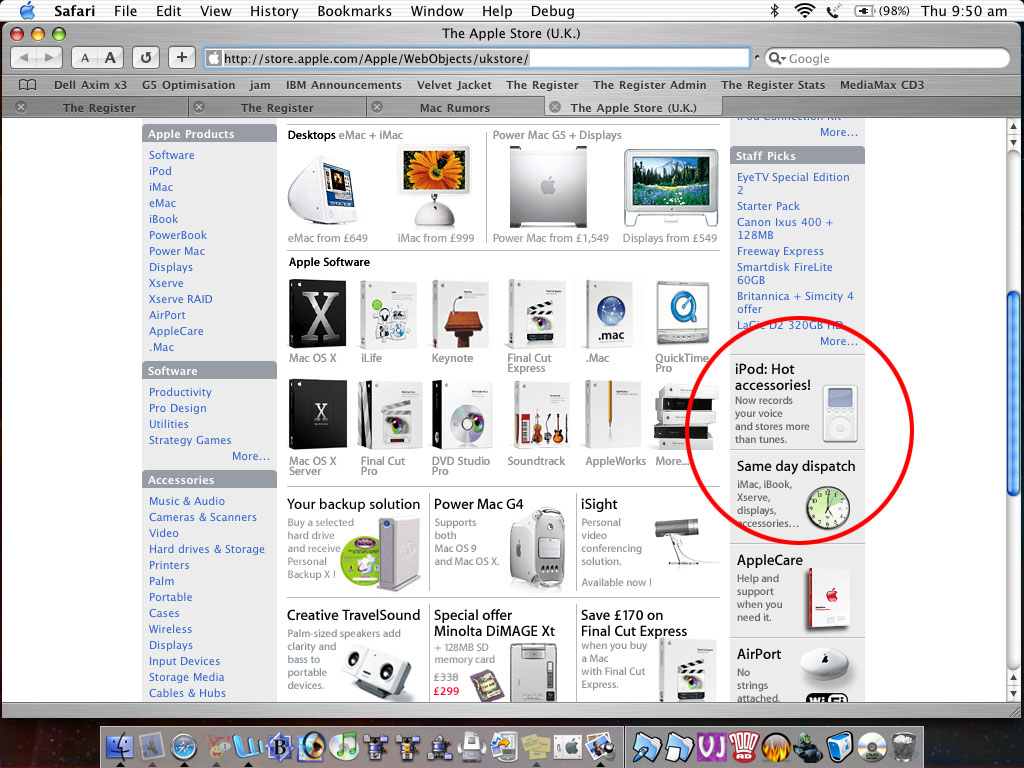 Click for full-size image
The iPod accessories may also be accompanied by a special edition, 40GB iPod, which according to earlier Think Secret reports was due to appear at Apple Exp Paris last month, but didn't.
Either way, Apple will today unveil iTunes for Windows and open up the iTunes Music Store to Wintel users, well ahead of its end-of-the-year deadline. The launch comes as Dell is preparing to offer just such a service of its own and as the relaunched Napster opens its doors for a public beta test period. Apple has other rivals, but it has garnered sufficient media mindshare for its previously Mac-only to be considered a serious player going forward, but it needs to open the service, via iTunes, to a broader range of players than it supports right now.
Napster remains a key challenger because of the brand awareness it possesses, but given its reputation as a source of free music, the paid-for version can't take the high levels of public support the service once had for granted.
Bootnote
Now that the UK AppleStore has effectively revealed the iPod accessories ahead of their official release, we wonder whether Cupertino High Command will issue a dictat informing Apple staffers they should on no count talk communicate with it, as we understand it has regarding other sites that discuss Apple's plans and products ahead of time.
Whoops!