This article is more than 1 year old
Creative SoundBlaster MP3+
Enhanced audio for your notebook?
Reg Review While the Mac has long offered a fine audio experience, the PC was for many years limited to bleeps and warbles issued from its single built-in speaker. The work of sound card companies, in particular Creative, helped redress the balance, and desktop PC users have now come to take good sound quality for granted, first through bundled SoundBlaster cards and more recently thanks to multi-channel sound built into the chipset.
Integrated sound systems are finally making their way into notebooks too, but that still leaves plenty of machines out there that are incapable of providing a sophisticated, modern sonic environment for games, movie and music playback. In any case, it's only relatively recently that notebooks have come to be considered capable multimedia and gaming machines, and thus used by the kind of folk who spend money on upgrades like sound cards.
Clearly notebooks offer limited scope for expansion - PC Cards are pretty much all they can accept - so how can portable computers being used for multimedia be given a good sound system?
Creative's answer is the SoundBlaster MP3+ - essentially a 16-bit sound card in a box. The small 2 x 4in module hooks up to one the host computer's spare USB ports - from which it draws its power - routing audio data through its processor and out to a set of analog and digital output ports: gold-plated RCA jacks, an S/P DIF for digital audio and a standard 3.5mm socket for headphones. Next to the headphone port is a handy volume dial. The unit comes with velcro strips to attach it to your notebook's cover, or there's a clip-on hook so you can slip it onto the display.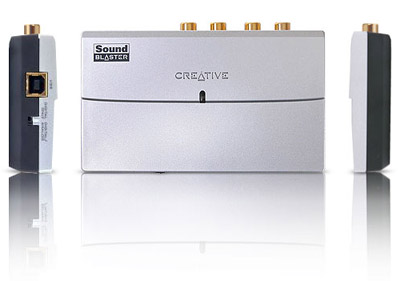 Creative's SoundBlaster MP3+
It also channels sound into the notebook, again using standard inputs: microphone, RCA and S/P DIF.
As its name suggests, the SoundBlaster MP3+ is perhaps aimed at more at music fans than gamers. The main components of the software bundled with the device are all designed to enhance music playback and to an extent recording too.
Unlike the higher-end products Creative is known for, the MP3+ is a 16-bit stereo device, pure and simple. It doesn't provide Dolby 5.1 or higher sound bit resolutions and sample frequencies, so you're not going to get an all-singing, all-dancing DVD experience, for example.
Creative's Media Source app provides the front end for the device, a music manager, player, recorder and CD burner. You can call up any of Creative's suite of set-up utilities from Media Source, or from a slide-down control panel that's installed at the top of your screen. The panel's buttons call up Media Source, a graphic equaliser, speaker set-up, sound mixer, EAX set-up and the Wave Studio sound editing app.
Speaker set-up lets you tell the system whether you're using headphones or speakers. It's here you set up the bass boost. You can adjust the level of amplification, and the frequency at which it cuts in. The results are good, particularly if you're listening on headphones, as we were.
The sound mixer allows you to set the relative volumes of the various sound sources being channelled through the MP3+, such as CD, MIDI music, line-ins and so on, plus record level. Designed primarily for rigs with more than two speakers, its value to the owner of the stereo-only MP3+ is limited, but you can at least set the left/right sound balance; front-rear fading naturally doesn't work.
EAX is more useful, offering a range of 15 pre-sets, each of which renders a different sound 'environment'. So if you want to the music coming off your notebook to sound like it was being played in a cathedral or the intriguing 'haunted cavern', you can. Some 'environments' work better than others, though how pleasing the effect is largely a matter of taste. With a five- or seven-speaker set-up we can imagine the soundscape being impressive, but it's value is limited if you're listening with 'phones or even a pair of small speakers, as we suspect most notebook users will be. EAX is fun to try out, but we wonder how many people will use one of the pre-sets as a default setting.
And there's no way to tweak EAX to create your own environments.
Equally gimmicky - but also fun to try out - is the time shift option, accessed through Media Source's Tools menu. Clever sound processing allows you to speed up or slow songs down without changing the pitch. We've all played 33rpm LPs at 45rpm, and heard how singers suddenly sound like Pinky and Perky. That side-effect is removed here, leaving the song playing up to twice or down to half the speed without losing clarity.
Smart Volume Management (SVM) is perhaps more useful, keeping the playback level consistent through otherwise quieter and loud sections - though it tends to lower the overall volume - and the ten-band graphic equaliser provides a finer control over the output. Unlike EAX, you can save your own EQ settings. Creative Multi-speaker Surround (CMSS) is or relatively little worth, widening a song's stereo separation to give a slightly spacier, echoey feel. We tried it on a variety of tracks covering a wide span of genres. CMSS works, but it didn't really enhance our listening pleasure to any significant degree.
On the recording side, the MP3+ naturally samples incoming audio at DAT-standard 48kHz and 16-bit. Creative also includes an audio clean-up system, which helps eliminate pops, clicks and hiss if you're digitising material previously stored on tape or vinyl.
Click image for full-size version
There's no doubt that together these features enhance the notebook audio experience. It works for desktops too - we tried it out on a sound card-less minitower. However, we did experience problems with lots of crackles and pops on the sound, particularly when some features, such as EAX and CMSS, were turned on. Settings were usually applied to the sound a few seconds after they were made in Media Source.
The latter problem is almost certainly because we were running the system on an old Pentium II machine with 64MB of RAM and running Windows 98 SE - the minimum specification set down by Creative. But the noise is more difficult to pin down. Certainly, other reviewers haven't commented upon it, so we're inclined to believe it's a problem with the host PC, probably the USB bus.
Minus that noise, the sound quality is impressive, and while the MP3+ lacks some feature's we'd have like to have tried, such as multi-channel surround sound, what it does offer isn't half bad for a £35/$60 add-on. And we should note that the device does support Dolby Digital 5.1 pass-through via its optical output. If you do want a more sophisticated, audiophile option, then Creative offers the SoundBlaster Extigy and Audigy 2NX, but for many users, these may be overkill, and the Extigy isn't really a mobile solution. And the Audigy is nearly three times the price of the MP3+, and it requires a separate power supply and USB 2.0.
If you use your notebook for listening to music rather than simply maintaining your portable player's song archive, the Creative SoundBlaster MP3+ is a great 'cheap as chips' add-on that will improve your listening pleasure no end. ®
Rating
75%
Pros
— Improves music and movie playback on older notebooks
— Bus powered
— Provides MP3 ripping and file management
Cons
— Limited to stereo output; no surround sound
— Sound resolution 16-bit not 24-bit
Price
£39.99 including UK sales tax; $59.99