This article is more than 1 year old
Logitech launches budget digital camcorders
And its face-tracking webcam
Reg Kit Watch
Digital Camcorders
Logitech today followed up last week's Pocket Digital 130 digicam launch with the release of a pair similarly cheap and cheerful digital camcorders.
The Pocket Video 550 and 750 aren't likely to challenge either big-brand digital camcorders, or even mid- to high-end digicams that can take small video clips, Logitech admits. Instead they've been designed as basic take-anywhere moviecams capable of taking email and web-friendly footage.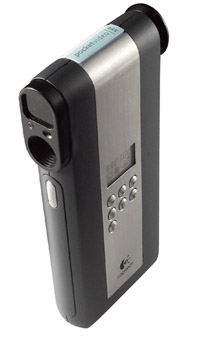 Both cameras feature 640 x 480 CCDs, but are only capable of taking 320 x 240 images at up to 20fps. Video is encoded using MPEG 4 rather than the more common digital camcorder format, DV. Both units have a TV-out port, allowing you to display your clips on a TV or dub them to tape.
USB 2.0 ports allow clips to be copied over to a PC. Both devices register with the host as a mass storage peripheral so they should work with both Mac OS X and Linux as well as Windows, though Logitech only bundles Windows software with the cameras.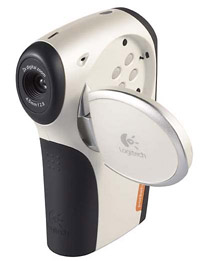 Each camera contains only 16MB of internal memory, but both devices have an SD card slot to add more, and Logitech is bundling a 32MB SD card with the Pocket Video 750, enough for around 20 minutes of clips in total.
The 550 (above) is a slimline model powered by a pair of AA batteries. It measures 12.4 x 5.5 x 1.9cm (4.9 x 2.2 x 0.8in) and weighs 131g (4.6oz). The 750 is beefier, weighing 262g (9.2oz) and measuring 12.1 x 8.6 x 3.7cm (4.8 x 3.4 x 1.5in). The extra space is taken up by a larger battery bay - Logitech bundles a removable rechargeable cell, but you can also chuck in four AA batteries - and a fold-out-and-swivel 1.5in LCD viewfinder. The 750 also sports a 2x digital zoom function.
Both models are available now and guaranteed for two years. The 550 costs £150 and the 750 £200.
Webcam
Logitech also shipped its latest webcam today, the QuickCam Sphere - in the US, the QuickCam Orbit - which it claims is the first mechanical web camera. Controlled by software, tiny motors on the lens assembly and spherical camera casing allow the lens to pan and track objects. Users can move the cam manually by pressing buttons on the Sphere/Orbit's control panel.
If you enable the face tracking option, the webcam will move follow you around, keeping your mug in the centre of the frame. According to Logitech, the camera uses face analysis code developed for the military. There's no recognition system built in here, but the cam is smart enough to know two eyes, a nose and a mouth when it sees them - enough to track you as you move.
The Sphere/Orb also sports a 22.8cm (9in) vertical stand. Its CCD can take video at 640 x 480 at 30pfs and interpolated stills at 1280 x 960.
Logitech's face-tracking software runs on Windows XP/2k/NT and Mac OS X. It operates with the new release of MSN Messenger, version 6, and Yahoo! Messenger on the Mac. A USB 2.0 device, the webcam won't work with iChat AV.
Available now, the Sphere costs £100. In the US, the Orbit retails for around $130. ®