This article is more than 1 year old
Sony unveils 'video iPod'
Plus: Creative does the Rhomba
Reg Kit Watch
Portable video player
Sony has launched a portable personal digital video player under its Vaio brand in Japan . The GigaPocket PCVA-HVP20 features a 20GB hard drive, enough to hold up to 31 hours of programming - if you're pretty frugal with image quality, natch.
The GigaPocket is a compact 12 x 8.4 x 2.8cm (4.8 x 3.4 x 1.1in) and sports a 3.5in backlit TFT LCD screen. The unit supports the MPEG 1 and MPEG 2 video compression standards, and it's the former, running at a 1.41Mbps compression rate) that yields those 31 hours of programme storage.
The 300g (10.6oz) device also supports (sort of) AVI (DV) and WMV format video, but these have to be sourced separately and transferred to the GigaPocket via its USB 2.0 connector. These two formats are converted to 4Mbps MPEG 2 - a little short of DVD quality - on the fly as they're sent over from a PC.
Alas, the GigaPocket can only handle four hours of programming per file. And you need to add a separate TV tuner module to the device to allow it to operate without a PC as a content source.
Built inside the HVP20 is a rechargeable Lithium Ion battery offering around four hours' playback time. The device also offers a TV out connector. It ships with a pair of stereo earphones.
The HVP20 goes on sale in Japan on 22 November. Sony has yet to set a price, but it is expected to retail for around ¥50,000; ($460/£275).
MP3 player
Clearly inspired by Rio's Chiba portable music player, Creative has begun shipping its new Rhomba player.
The Rhomba packs in 256MB of Flash memory. Like Creative's Nomad MuVo NX, Rhomba is essentially a Flash drive with a built in music playback facility. It connects to the host system via a USB cable, but mounts as a removable disk, which not only allows you to copy over files by drag and drop, but eliminates the need for jukebox software. The USB cable is also used to charge the player's built-in rechargeable Lithium Ion battery. At full capacity, the battery provides 14 hours' playback time, Creative claims.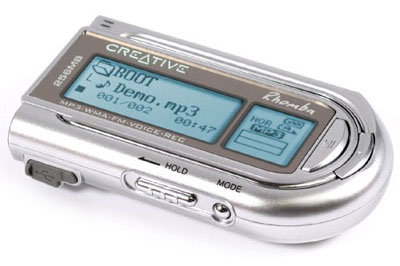 Like the Chiba, the 1.8oz Rhomba features one-hand controls, a number of equaliser pre-sets, a large-size display and a built-in FM tuner. Unlike the Chiba, the Creative player's equaliser can't be customised, though bass and treble controls are included. It also lacks Chiba's memory card slot. However, there is a voice recording facility, and radio shows can be saved, too. Rhomba is available with either 128MB or 256MB of memory, and retails in the US for $150 and $200, respectively. Not officially available in the UK, the 256MB is now available from Amazon.co.uk for £110. ®