This article is more than 1 year old
O2 launches digital music player
And a UK music download service, too
Reg Kit Watch Forget about downloading songs to your PC, mobile phone network: O2 wants you to use your mobile phone. And just as you might transfer songs from your computer to a portable player, O2 has introduced the Digital Music Player (DMP) to beam your phone-found tracks too.
And it has launched an online music service to keep the device fed.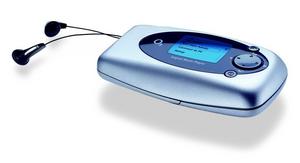 The O2 DMP is a £100 device with 16MB of SDRAM and 8MB of Flash storage, augmented with a 64MB removable SD card. A small, five-line LCD panel displays track information, and the device is controlled using a five-way circular navigation pad. There's no EQ, but the player has treble and bass controls, available through the menu system, to allow you to tweak the sound to meet your personal preference.
The player is powered from a rechargeable Lithium Ion battery which provides up to seven hours' continuous listening time, O2 says.
Developed by mobile phone company Siemens, the player looks not unlike Siemens' SL55 slider handset when closed. But it works with any phone that is enabled for GPRS and has an infrared port, through which the DMP is loaded with songs. Fortunately, there's also a phone-to-player cable, but we suspect this only works with Siemens handsets.
And if you haven't got a phone, you can always hook up the player to your PC via a USB cable. The DMP shows up as a standard removable drive.
O2's music service charges £1 to £1.50 per download, depending whether the song is in the charts or not. The fee is added to monthly bills, or taken from your pay-as-you-go card. The service encodes files using MPEG 4's AAC Plus codec, an updated version of the same Advanced Audio Codec used by Apple's iTunes Music Service. O2 doesn't say what the encoding rate is, but it claims a typical song will fit into a 1MB file. That song offers the same level of audio quality as a 3MB MP3, O2 claims. It also saves transfer time - essential with a GPRS connection's pay-per-byte billing.
Either way, you can store around 60 AAC Plus songs on the player, and you can keep more with extra memory cards or by archiving to a PC. The player can also handle regular iTunes-generated AAC files and MP3s. The AAC Plus songs are DRM protected. Some 100,000 tracks are available, but only to UK users.
The DMP is available now direct from O2. ®