Sharp has formally announced the launch of the Zaurus SL-6000 - the latest generation of its Linux-based PDA.
The announcement confirms earlier reports that the company was preparing a successor to is Zaurus SL-5500.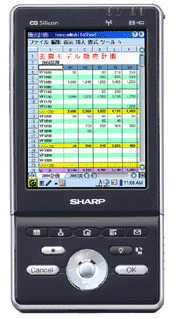 Sharp will offer three versions of the new Zaurus, the 6000N, 6000L and 6000W, respectively without wireless access, with 802.11b, and with 802.11b and Bluetooth.
Like previous versions of the SL series, the 6000s sport a 4in, 16-bit colour, 480 x 640 LCD screen. Sharp has not confirmed initial reports that the screen as a PalmOne Tungsten T3-style landscape mode, but that's what initia reports based on a look at the device claimed. This time round, the screen is supported by a more robust casing, Sharp claims, capable of withstanding a fall of 1m. The company's Japanese announcement also suggests the device contains Flash memory for user applications and data back-up. The device contains 64MB of Flash, of which 25MB is user-accessible. It also ships with 64MB of RAM. In addition to character recognition, the 6000 family, like its predecessors, feature a slide-out mini QWERTY keyboard.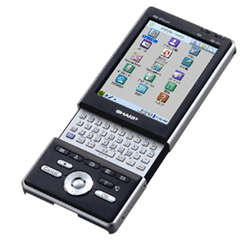 The 6000 series is powered by a 400MHz Intel XScale PXA255 processor, running the OpenPDA embedded Linux distribution with Trolltech's Qtopia GUI. PC-to-PDA connections are made using the handheld's USB port. There's an infra red port too. The device has an SD Card slot and a CompactFlash slot. Sharp is also offering an adaptor which can take a second CF card. The adaptor also appears to include an extra battery - Sharp quotes significantly higher operational durations with it attached. With the WLAN adaptor on, for instance, Sharp tells us to expect to be able to use the device for two hours and ten minutes. Adding the second CF slot adaptor doubles that to four hours and 20 minutes.
Every SL-6000 will ship with the Opera web browser, a PIM suite, and Hancomm's MobileWord and MobileSheet productivity apps. There's a POP/IMAP email client too, a variety of utilities, and Java 2 Platform and Mobile Edition runtimes.
The device measures 15.8 x 8.0 x 2.0cm (6.3 x 3.2 x 0.8in), so it's hardly tiny. The 6000N, L and W each weigh 255g (9.0oz), 262g (9.2oz) and 264g (9.3oz), respectively.
The 6000N goes on sale in Japan on 10 December, followed by the 6000L on 24 December. The 6000W ships on 3 January. As yet, Sharp has given no indication what the prices will be, or when it will ship the SL-6000 series in the US and Europe. ®
Related Stories
Sharp preps upgraded, rugged Linux PDA
Sharp to plot worldwide Linux PDA plan
Sharp cans Linux PDA in Europe
Sharp goes clamshell for new PDAs