This article is more than 1 year old
Elonex eXentia Media Center PC
The way multimedia PCs should be?

Review I first looked at the Elonex eXentia just before the official launch of Microsoft's Windows XP Media Center Edition. It was a pre-production model but it still blew me away with its cutting-edge integrated design and high quality construction.
As with all pre-production samples it wasn't quite finished, especially considering that the eXentia was originally built for a North American market. Now, however, Elonex has full-production samples of the eXentia, and although it feels like it has been a very long wait, I can assure you that it's worth it.
The eXentia is an all-in-one Media Center solution, and unlike any other attempts at an AV PC I've seen, this one only needs to have just one cable attached to it, and that's for power.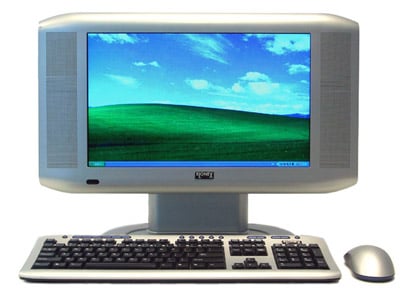 When I tested this eXentia in my home, I plugged it into a power socket, fired it up and just started using it. The keyboard and mouse are wireless devices, which is nothing new. But what is impressive is that there is no messy external receiver for these input devices - it's all built into the chassis, making for a very tidy solution. The Media Center remote control receiver is also built into the unit, so there's no need to have an external IR port spoiling your dÇcor, either. I still maintain that an RF remote control would have been better, but going with IR was a Microsoft decision that Elonex has had to adhere to.
What you have here is, in my opinion at least, Microsoft Media Center as it was meant to be seen. The eXentia looks superb, with a curvaceous silver casing surrounding a 17in widescreen TFT screen. The TFT panel sports a resolution of 1280 x 768 which gives you a decent-sized desktop if you're using the eXentia as a PC, and a large enough screen for watching TV or DVDs.
The display itself is first rate, with a bright and vivid image that's viewable from almost any angle. Elonex has also improved on the original design specs laid out by Gateway and Intel for the North American market, by placing a sheet of non-reflective glass over the TFT panel to keep it safe. Let's face it, with a device that's viewed as a piece of consumer electronics, sooner or later someone would spray the screen with furniture polish. It also stops any kids damaging the screen by poking sticky little fingers at it.
To the left of the screen you'll find an 8-in-1 memory card reader, making it easy to transfer images from your digital camera, or even swap data between the eXentia and a PDA. The right side of the screen is equally well equipped with a DVD writer. Not only will this be great for backing up data, but you can also use it to offload recorded TV programmes from the hard disk, if you find yourself getting a bit short of space.
Of course to get the most out of a Media Center PC you've got to be connected to the Internet, preferably via broadband. The problem with this is that many people don't have their broadband connections in the living room. And with a movable system like the eXentia (it even has a carrying handle), you don't want to have CAT5 cables running into every room where you might use it.
But fear not. One of the best features of the eXentia is its built-in Wi-Fi adaptor. When I setup the eXentia in my living room, it instantly found my wireless ADSL router located in the bedroom. Within seconds the eXentia was hooked up to the Internet and downloading all the Electronic Programme Guides (EPG) and tuning in all the TV stations.
If you haven't yet installed a Wi-Fi network in your home, let me tell you that you have no idea what you're missing. Being able to use the Internet from anywhere in or around your house is fantastic. But it's even more of a boon with a machine like the eXentia, where it doesn't matter where you set it up, it will be fully functional and online in seconds. Of course you could attach a Wi-Fi adaptor to any Media Center PC, but it would just be yet another attachment to add to what is probably an already messy system.
Of course having integrated wireless networking isn't only good for downloading updates and EPGs. It also means that you can share data on the eXentia with other devices, and that the eXentia can access devices like network printers,
Despite its compact dimensions, the eXentia can pack quite a punch. Elonex is offering the eXentia in a range of configurations with processor options running from a 2.6GHz Pentium 4 right up to a 3.2GHz P4.
We decided to take a look at the top of the range machine equipped with a 3.2GHz P4, 512MB of RAM, a 250GB hard disk and an ATI Radeon 9600 graphics card. With this kind of specification, the eXentia is not far off the performance of a conventional high-end PC. What's amazing is that such high-end components can be shoe horned into such a slim casing.
It's probably the CPU cooling solution that's the most impressive. In an attempt to keep noise levels down, the eXentia only has two 80mm fans to keep everything cool. This means that there can be no active cooling on either the CPU or the graphics card. Now, with a 3.2GHz P4 ticking over, keeping things cool isn't particularly easy, but if you look inside the eXentia you can see how Elonex has managed it. The processor is encased in a heatsink assembly that has no fewer than four heat pipes attached to it. All four heat pipes draw the heat away from the CPU and funnel it out of the system case. The set-up appears to work very well since I kept the eXentia running for days without any hint of heat dissipation problems.
The graphics card is something of a limiting factor since the eXentia chassis can't accept a card with active cooling. It also needs to be a low profile card to fit inside the case. That said, the Radeon 9600 produces decent enough performance without the need for active cooling, so it's not a bad solution to employ.
The SYSmark score is pretty impressive by any standards, let alone for an all-in-one PC. The overall SYSmark score of 309 has only ever been bettered by heavy duty machines equipped with AMD Athlon 64 FX-51 chips. Obviously 3D performance isn't quite as impressive since this is more down to the graphics card than anything else. That said, you should still be able to play 3D games on the eXentia, just don't expect to be pumping the resolution up high.
You can see the full benchmark figures here.
In Media Center mode the eXentia is a joy to use. Armed with the Media Center remote control (rather slimmer than the standard Microsoft one shipped with other MCE machines), it's easy to navigate all the multimedia features you could want. You can pause live TV while you're watching it, or watch the beginning of a recording while the rest of the programme is still being aired. Of course, this is nothing new for anyone who's used TiVo but it's a great feature nonetheless. The TV image was as good as anything you'd get from a conventional television, although this is obviously dependant on the reception in your area and the quality of your aerial.
Watching movies or listening to music isn't a problem with the eXentia either. Not only does it sport a set of stereo speakers mounted either side of the screen, but there's a sub-woofer hidden at the back that helps produce a full and loud soundstage. It's not as good as a set of quality speakers, but it's the best sound that I've ever heard from an all-in-one PC.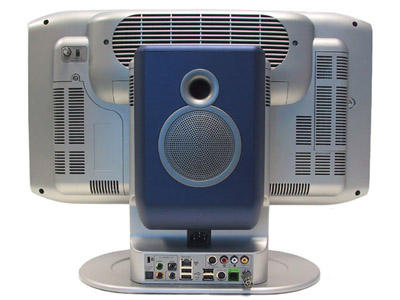 If however you do want to improve on the built-in speakers, there's a full set of 5.1-channel analogue outputs at the rear, or if you've got an amplifier with a surround sound processor, you can connect to it via the optical digital output.
There's an S-Video output in case you want to play something back on a larger screen. While there is also a full complement of AV inputs in both composite and S-Video flavours so that you can import from devices like camcorders.
If you don't have a wireless network set up, there's a 10/100Mbps Ethernet connector, and if you haven't got a broadband connection, you can make use of the 56Kbps modem that's also present.
Connecting external devices won't be a problem either with five USB 2.0 ports and a FireWire port for connecting a DV camcorder or even an iPod.
The eXentia even has a built-in FM radio tuner, in case you want to listen to a local radio station that you can't get over the Internet. So, just about every possible base is covered.
Using the eXentia in PC mode is not much more difficult than navigating the Media Center functions. The wireless keyboard and mouse may not be quite up to the standard of the latest Microsoft offerings, but they function well and have longer range than my eyesight could cope with.
I honestly believe that someone could use the eXentia as the only PC they own. Because the only physical connection it needs is the power cable, you can have it on a desk when you're working, then just pick it up and put it somewhere else if you want to watch a movie or TV.
One thing worth noting is that Elonex has decided to change the blue detailing on the eXentia to black for future models. Elonex says that it may well offer both colours in the future, but that it received a better customer reaction from a black and silver finish.
This kind of design, versatility and power has to come at a price though, and at £2113.82 the eXentia isn't particularly cheap. However, unless you absolutely must have the fastest processor available, my advice would be to drop the spec. down to something like a 2.6GHz Pentium 4 and save yourself a wad of cash. You probably won't notice the difference in performance, but you will notice the difference to your bank balance. The 2.6GHz version of the eXentia will set you back a very reasonable £1526.32, although the memory and hard disk capacity drop to 256MB and 120GB respectively, and the graphics card becomes a Radeon 9200 instead of a 9600. That said, you'll still be able to do everything you're likely to want to do with an eXentia in this configuration.
I haven't seen too much hardware based on Windows XP Media Center Edition since the launch at the end of September. I imagine the reason for this is that manufacturers are trying to come up with a special solution rather than just a PC with a fancy operating system. However, now that Elonex has finally released the eXentia, the competition will have to come up with an answer pretty soon or risk being left behind.
Verdict
The production version of the Elonex eXentia has lived up to all the promise shown by the pre-production version I looked at in September. If you're serious about having a PC based on Windows Media Center Edition, this is most definitely the one that you want.
Visit The Reg's Review Channel for more hardware coverage
Copyright © 2003, Trusted Reviews