This article is more than 1 year old
O2 ships Blackberry 7730 in the UK
Big screen for big business
UK mobile phone network O2 began offering RIM's latest Blackberry, the 7730, to business customers today.
The Blackberry 7730 has been described as the 7230's big brother. It's slightly bigger than the 7230 (12.1 x 7.7 x 1.8 cm to 11.3 x 7.4 x 2cm and 142g to 136g) to and features a larger, 16-bit colour screen capable of displaying four rows of application icons rather than the 7230's three.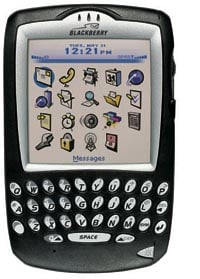 Like the 7230, the 7730 contains 2MB of SRAM and 16MB of Flash. The new model's battery can sustain five hours of talk time and nine days' standby time, to its predecessors four hours and ten days stats.
The 7730 is a tri-band model supporting roaming on all GSM/GPRS networks. O2 said its standard Blackerry tarrifs apply. Pricing for the 7730 was not disclosed. ®