Reg Review Sony Ericsson isn't the first to market with a PC Card that allows a notebook to connect to the Internet across a cellular network, but its GC79 has the novelty of also providing an 802.11b adaptor in the same card. The idea is simple: wherever you are, you can access the Internet wirelessly. When you're in range of a hotspot, public or private, and you can connect at up to 11Mbps. If you're out in the field, you can still make a wireless connection, this time using a GPRS or a slower GSM dial-up link.
We occasionally go online using a GPRS connection courtesy of our trusty Nokia 6310i, using Bluetooth to get phone communicating with computer. It's not particularly fast, but it works. Intensive surfing isn't a good idea, but checking the odd web site and keeping email flowing is fine. The GC79 offers the same kind of connection, but without the hassle of setting up Bluetooth and with the bonus of providing phone functionality on the notebook.
Set up
Getting up GC79 up and running was a doddle. Your network SIM card slips easily into a slot in the GC79, which itself goes into a spare PC Card bay. Chuck in the CD, install the drivers and the GC79 Manager utility, and you're ready to go.
Activating the Wi-Fi component brings up the usual list of available access points. We selected our own, and were immediately able to launch Internet Explorer and start visiting web sites.
Unwilling to go out into the wind and the rain of a soggy November day in London, we simulated being out of range of our Wi-Fi base-station by disabling the WLAN radio using GC79 Manager. Sony Ericsson's Connection wizard helps you set up a direct-data GPRS or GSM/HSCSD dial-up link. The wizard has connection data for most of Europe's key cellular networks' GPRS systems, plus a number from the US, Australia and other locations around the world. Just choose your network and the wizard automatically fills in the details listed in the next few screens: Access Point Name, username and password are all pre-programmed. Or you can enter new ones, if your mobile phone network isn't listed.
An Advanced button allows you to enter, if necessary, fixed IP and DNS addresses, enable data compression, and tinker with the quality of service settings, if you know how many octets you want each second.
If your SIM isn't GPRS enabled, or you want a third, back-up connection option, you can enter your ISP's dial-up details. The GC79 contains a tri-band radio, so you should be able to connecting around the globe, coverage and roaming enablement permitting.
When you're through, you select your named connection from GC Manager's pop up menu and click the Connect button. After a few seconds of network initialisation, you have a GPRS link and you can surf the Internet slowly but serviceably. Windows XP reports a connection speed of 53.6Kbps, but since it reports the WLAN connection as 11Mbps, the real GPRS data rate is likely to be rather less than that. The software counts data volumes in and out - useful information since GPRS services are invariably charged on a per byte basis.
Fall-back connectivity
We then switched the Wi-Fi adaptor back on. After a moment or two, it detected our access point once again and opened a connection. Windows XP is smart enough to utilise the faster of the two connections, and since GPRS is billed according to the volume of data you send and receive rather than the duration of the connection, it's no problem to leave it up and running. To simulate roaming we again disabled the Wi-Fi adaptor, and Windows went straight over to the active GPRS link. We didn't even have to relaunch our browser. Downloads won't survive across the break, but if you're in the middle of reading a web page, all you'll notice is the change of speed when you call up the next one.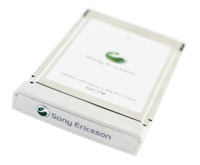 Alas, the card won't initialise a GPRS connection if the Wi-Fi link drops - you'll have to connect manually. However, the card can be set to connect at startup so it's always there if you need it. If you don't want to use your own phone's SIM - you still want to make voice calls, presumably - a low-end contract phone is an inexpensive way of getting an account for the card.
Why a second phone? The CG79 Manager software won't let you make voice calls. It will, however, allow you to divert voice calls to your mobile operator's answerphone service, or to another phone. Likewise, data and fax calls can be diverted, or picked up by the PC. Sending faxes is just a matter of changing Windows XP's Fax settings to use the GC79 rather than the notebook's built-in modem, if it has one.
You can send and receive SMS text messages, too. In fact, the GC79 just about has all the telephone features you'd expect from a business-oriented mobile handset - except voice.
Like other GPRS or Wi-Fi PC Cards, the GC79 sports a small, fixed antenna module. Some users may be disappointed by the lack of an activity LED. The module has a lower profile than other Wi-Fi cards we've seen, but doesn't hug the side of the notebook as much as its picture might suggest, certainly not when plugged into our Acer Travelmate 661LMi test machine. That said, it is small enough for your laptop to fit into a typical carry case without you having to remove the card.
Verdict
Sony Ericsson's GC79 is a solid solution for notebook users who need to stay connection on the road. It's a nice look product. It works, and it works well.
But... it's expensive and it's integrated Wi-Fi functionality is increasingly unnecessary. If your notebook has Wi-Fi built in - and many do - the GC79 is a non-starter. If you don't need Wi-Fi, standalone GPRS cards - such as Sony Ericsson's own GC75 - are cheaper. Bluetooth adaptors are even less expensive. Connecting using a Bluetooth-equipped computer to a mobile phone isn't entirely straightforward, but it's not that difficult and it saves having to swap out a SIM from handset to GPRS card. And, like Wi-Fi, Bluetooth integration is increasingly becoming a standard component in new laptops.
If you don't yet have Wi-Fi, a standalone 802.11b card will be very much less expensive than a GC79, leaving you effectively paying a heavy premium for the GPRS functionality. If you do need both, Nokia's D211 Wi-Fi/GPRS card is cheaper than the Sony Ericsson product. It's antenna module is slightly bigger, but you can save around £65 if you're willing to put up with having to take it out every time you pack your notebook away.
That's looking at SIM-free price - with a mobile connection contract you can probably pick the GC79 for a lot less. We've seen prices as low as 30 quid, but then we've also seen the D211 offered bundled free with a connection contract. But we would pay the extra £30 just to get a card that can stay installed in the laptop.
If you need widely available connectivity, you don't have Wi-Fi, and you're willing to fund a separate phone account, the GC79 is worth your consideration. ®
Sony Ericsson GC79 GPRS/Wireless LAN PC Card
Rating
75%
Pros
— Integrates GPRS with Wi-Fi
— Antenna small enough for you to keep the card in your notebook
— Good connection management software
Cons
— Windows only
— No voice telephony support
— Expensive without a contract
Price
£250 (SIM-free)
More info
The Sony Ericsson web site