This article is more than 1 year old
Wi-Fi/Flash combo drives proliferate
Plug'n'play WLAN access
Gigabyte's recently announced USB Flash drive/Wi-Fi adaptor combo isn't unique, as we first thought. A number of Register readers tell us there are at least half a dozen more versions of this kind of device coming to market by way of Taiwanese manufacturers. Many of them are shipping already, though UK and US availability remains unclear.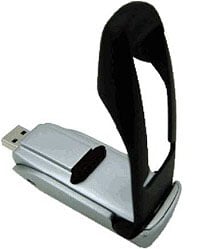 Take the Okeynet ST-614A. In addition to 802.11b, the device offers 128MB of Flash memory. It connects using USB 1.1. The 80g device features a pocket clip which doubles up as an antenna. The Wi-Fi component only works with Windows 98SE, ME, 2000 and XP systems, but Linux 2.4 and Mac OS 9/X users can at least make use of the Flash drive.
Procomp's Flash Drive + 11b, AerieLink's AWUA1211 and KingByte's Wireless PenDrive are all essentially the same 30g product, offering 128MB of Flash storage and 802.11b wireless networking. The Procomp product is distinguished perhaps by its transparent casing. In all three models, the cap that protects the USB 1.1 connector slides back over the body of the drive. The sliding cap also features a pocket clip.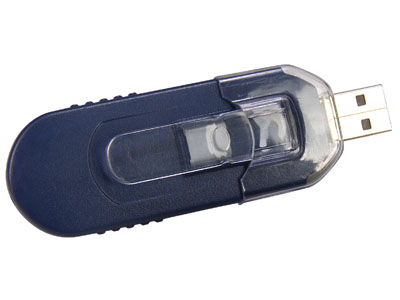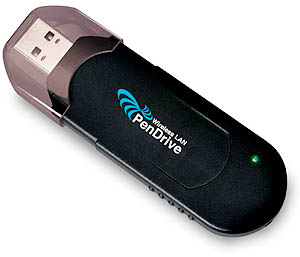 The AerieLink AWUA1211 (top) and KingByte Wireless PenDrive
Apacer's Wireless Steno MB112 is an 802.11b device to, but comes in 64MB, 128MB and 256MB versions.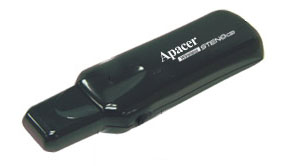 The Apacer Steno MB112
Finally, the Pretec iDisk WLAN offers the same 128MB and 802.11b features as all the above drives - in fact, it's the same unit as the Apacer product, but coloured white rather than black.
Not all the devices are available yet - all but the iDisk and Procomp product are shipping, generally for around TWD2000 ($58), reader Joseph Quinn tells us. ®