This article is more than 1 year old
Acer TravelMate 661LMi laptop
Great price, great features, shame about the keyboard
Reg Review It's dangerous when reviewing hardware to describe any particular attribute as 'too much', 'too big' or 'too high'. Inevitably, at least one reader will not unreasonably describe said excess as nonetheless perfect for the applications they like to run, or the their own preferred mode of operation. So we're loath to say the resolution of the Acer TravelMate 661LMi notebook's 15in screen is too high. But there comes a point where increasing trying to cram more into a display without increasing the physical size of the screen becomes a handicap as icons and text shrink to unreadability, and we think the 661LMi's 1400 x 1050 native resolution is that point.
We say 'native resolution' because you can knock back this impressive display's pixel count to a more readable 1280 x 1024, say, or any of the others supported by the machine's Intel Extreme 2 graphics engine integrated into the notebook's chipset. But with only the one native resolution, you end up with a smeared, out-of-focus image that might do in a fast-moving game but not a serious productivity app. And the 661LMi isn't a gamer's machine.
Based on Intel's Centrino platform, the 661LMi is a business-oriented mobile PC, and a very respectable one at that. We weren't keen on its display, or its supposedly ergonomic curved keyboard, but we could few faults with its extensive feature set, performance and certainly not its price.
The Acer is based on a 1.4GHz Pentium M backed with a decent 512MB of 266MHz DDR SDRAM and a 40GB hard drive. A Centrino machine, it uses Intel's 855GM chipset, which, as we said, provides the graphics acceleration and grabs 64MB of the main memory bank as its video buffer. The 661LMi ships with an 802.11b Wi-Fi adaptor accessed through a hatch on the underside.
Wireless
Like other Centrino machines we've looked at, the 661LMi had us connected to the office WLAN in moments. It's a battery eater, of course, but Acer has engineered in a button on the front of the machine which turns the Wi-Fi radio on and off, the better to conserve power when you're out of range of a hotspot. Oddly, it also has a similar switch for a Bluetooth radio, even though Acer doesn't offer an integrated Bluetooth option.
Leaving out Bluetooth is disappointing in a laptop so otherwise rich in features. The de rigueur 10/100Mbps Ethernet and 56Kbps modem ports are joined on the rear of the machine by serial, parallel, s-video and DVI connectors. On the right-hand side sits the power point and the removable DVD-RW and CD-RW combo optical drive. Over on the other side of the machine you'll find four USB 2.0 ports, a 1394 connector, and 3.5mm headphone and microphone sockets.
On front of the 66LMi, alongside the above-mentioned, radio power buttons, sit the machine's other wireless comms port: the IrDA lens. Next to it sits a four-in-one memory card reader, capable of using Memory Stick, Smart Media and SD/MMC cards. Moving back to the left-hand side of the machine, its card support continues with a PC Card slot and what appears to be a Smart Card reader, ideal for corporates who have implemented a Smart Card-based authorisation scheme and ready for better e-commerce security that physically authenticates credit card transactions.
Dangerous curves
Opening the notebook up reveals the aforementioned colossal display and the keyboard. We know all the arguments for the use of ergonomic keyboards: essentially, they reduce the physical strain on your hands and fingers while typing. The usual way of achieving this is by placing the keys reached by one hand at a slight angle to those typed by the other, the idea being that they're better positioned to match the angle at which your hands naturally sit.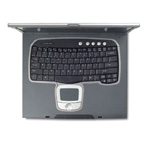 That may be the case, but having gotten well-used to a linear keyboard layout, we found the Acer's curved keyboard caused us to make frequent mis-hits, usually involving turning on Caps Lock when we didn't need it turned on. The keys themselves had a slightly squidgy feel, but do at least seem larger than many notebook keyboards we've used. For non-typists, that may compensate for the unusual curvature, but not, we suspect, for typists.
Beneath the keyboard is the usual touchpad and mouse buttons. Acer adds a nice touch between the latter: a four-way rocker to scroll pages left and right as well as up and down. That's the idea, anyway - and an improvement over, say, the up/down scroll wheel built into the touchpad on the Samsung X10, for example. Of course, how much left and right scrolling you'll be doing on a 1400-pixel display remains to be seen.
Mounted underneath the wrist-rest area and facing forward are the 661LMi's two speakers. This may be a one-off, but we noticed a distinct bias toward the right-hand speaker when sitting in the usual 'notebook user' position. We got down on the floor so our ears faced the two grilles and the bias had gone, suggesting not a fault with the audio system per se, but the acoustic effect of the notebook's innards. Either the battery or the hard drive has more of a dampening effect than the other.
The poor balance can be remedied using Windows' sound control panels, but it's not an ideal solution, lowering the volume from right speaker down to match what's you hear as coming from the left. A better solution is a pair of earphones.
Performance
The 661LMi scores as well as can be expected on the usually array of Benchmark suites -SysMark 02, MobileMark 02, etc. The latter yields a battery life of a smidge over four hours - not industry leading, but still very respectable.
Low 3DMark numbers show this is no hard core games machine.
For a more applications-oriented set of figures, we ran a few our own suite of tests. Apple's iTunes was set to work encoding a ten-minute AIFF file (100.9MB) from the hard drive to a 128Kbps MP3. It took 1m 5.4s on mains power. Using the battery and Centrino's notebook power profile it took 1m 6.9s; switch it to the maximum battery life profile and the time fell to 2m 36.7s. With minimal power management, the 661LMi ripped the AIFF in 1m 5.3s.
Finding and replacing 32,212 carriage returns in a 273,234-word Word 2003 document took 4m 42.2s on its first run.
Verdict
The list of 'toos' we mentioned at the start contains one exception: 'too expensive'. That's not a charge that can be levelled at the 661LMi. At around £1199 including sales tax, it packs in a lot of features for a pretty good price. We'd personally question the value of a DVD-RW drive for a mobile professional, and might perhaps opt for the cheaper TravelMate 661LCi, which makes do with a DVD-ROM/CD-RW unit and costs £100 less.
We'd certainly accept a 'lesser' optical drive if it mean we got integrated Bluetooth, which is arguably more important to mobile users than DVD-R compatibility. Bluetooth allows them to use a suitably-equipped mobile phone as a GPRS modem for efficient (if not Wi-Fi fast) Net access.
Whatever optical drive you get, it's removable, so you can either reduce the notebook's weight a little - it's 2.9kg (6.4lbs) as standard - or to make room for a second battery.
The 66LMi felt sturdy and solid, and despite the use of Centrino technologies, it's no 'thin and light' model. Think of it more as a desktop alternative than a road warrior's machine.
Don't think any the less of it for that, though. We had our issues with the keyboard and screen-size, but at the price Acer is asking for it, we can't complain too loudly. And if our still-going-strong AcerNote Light 380 is anything to go by, it will have been built for the longer term. ®
Acer TravelMate 661LMi
Rating
80%
Pros
— Nice price
— Broad feature set
— Solidly-built
Cons
— Curved, ergonomic keyboard
— Screen resolution too high
— No Bluetooth
Price
£1199 inc. sales tax
More info
The Acer UK web site
Related Reviews
Rock Pegasus CTS notebook
Elonex eXentia Media Center PC
Samsung X10 'thin and light' notebook
Visit The Reg's Review Channel for more hardware coverage