This article is more than 1 year old
Sony Vaio PCG-Z1RMP notebook
Nice looks, but what about the battery life?

Review The Vaio PCG-Z1RMP is another example of superb design from Sony. This notebook really does look great and the way that the chassis curves and falls away at the sides to reveal the ports and connectors makes it very individual as well, writes Riyad Emeran.
The Z1RMP is not what you'd call an ultra-portable notebook, but with a weight of 2.1kg, it's light enough to be carried around with you all the time. The dimensions are pretty impressive too at 31.6 x 24.7 x 3.9cm, especially considering that there's an optical drive built into the chassis.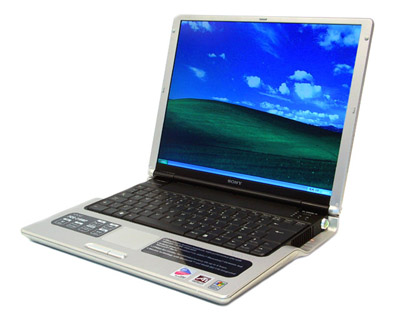 There's no catch securing the lid shut, but it's not as if notebooks suddenly flip open by themselves if they're not clasped down. Lifting the lid reveals an aesthetically pleasing mix of silver and black. Unusually, the touchpad is the same silver colour as the rest of the chassis which adds to the visual appeal.
The keyboard is a joy to use, even though there is less travel to the keys than seen on other notebooks. The lack of travel isn't an issue as the keys are so responsive to the touch that your fingers just bounce back from each keystroke. The keys are also full-size which is always a bonus on a notebook, with the Return and Backspace keys both large and easy to hit. The cursor keys aren't set away from the rest of the keyboard but they are full size and in the correct configuration. The whole keyboard is also slightly sloped towards you, which adds to the comfort factor.
The touchpad is also pretty good even though it's smaller than normal. The smaller size of the touchpad does mean that you need to set the sensitivity a bit higher, but pointer manipulation is still simple. Below the touchpad are two metallic selector buttons that respond with a reassuring click whenever pressed.
The screen is a 14.1in TFT display with a native resolution of 1400 x 1050. This is a pretty high resolution for a screen this size and some people may find the resulting text and icons too small. However, I'm a great advocate of high resolutions and I am more than willing to put up with smaller text if it means that I can fit more windows on my desktop. The screen isn't the brightest or most vivid that I've ever seen, especially compared to the Onyx Black screens seen on other Sony notebooks. That said, the screen is a very respectable example and it's comfortable to use even for extended periods of time.
Inside the Z1RMP is a 1.5GHz Intel Pentium M CPU which makes up part of the Intel Centrino specification. The processor is backed up by 512MB of RAM, an ATI Mobility Radeon graphics chipset and a capacious 60GB hard disk. Adding to the high-end specification is Windows XP Professional.
Wi-Fi
If wireless connectivity is important to you, you'll love the Z1RMP. Being a Centrino-based machine you obviously get built-in Wi-Fi functionality. It makes your notebook a truly mobile office assuming you can find a hotspot when you need one. But what about when you desperately need to check your email and there isn't a hotspot anywhere near you? Well there's no need to worry because Sony has that covered too. As well as Wi-Fi, the Z1RMP has integrated Bluetooth functionality. With Bluetooth you'll be able to get connected via your mobile phone, as long as it has Bluetooth as well. Bluetooth is a real bonus for anyone who may need to get connected anytime and anywhere. The one disappointing thing about the wireless features is that there's a single switch to turn them both on. That said, a tray icon allows you to choose which service you want it to activate, or if you want both Bluetooth and Wi-Fi enabled.
Guided tour
Taking a tour of the chassis shows that this is a pretty fully featured notebook. The left hand side of the case features a single PC Card slot, two USB 2.0 ports, a Firewire port and headphone and mic sockets. There's also a memory stick slot, so if you're using a Sony digital camera or PDA, you'll be well catered for.
On the right you'll find a DVD/CD-RW combo drive, giving you the ability to back up data. There's also a pretty cool looking power button and a modem socket covered by a rubber bung. Next to the modem socket are three lights indicating when you're on battery power, when Wi-Fi is enabled and when Bluetooth is enabled.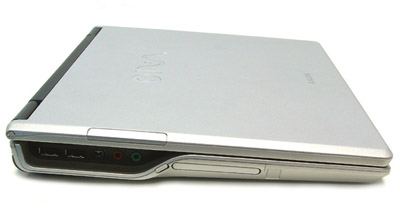 At the rear is the power connector and a flap that hides the 10/100Mbps Ethernet port and a D-SUB output to allow you to connect the notebook to an external monitor. The majority of the rear is taken up by the battery which is easily removed and replaced.
On the underside of the notebook is one last port hidden behind a sliding cover. This one is for the optional docking station which adds features such as DVI output and a parallel port for legacy printers.
Sony has included a decent software bundle. For office productivity you get a copy of Microsoft Works, and to make use of the Firewire port there's Adobe Premiere LE for video editing. Finally, there's a copy of Adobe Photoshop Elements for editing all those images you'll be pulling off your digital camera.
Performance is pretty strong and the 166 SYSmark score makes the Z1RMP the fastest Centrino based notebook we've seen. The 3DMark 2001 SE score of 1,691 isn't going to impress anyone, but this machine isn't supposed to be used for playing games. Click here to see the full results.
Battery limitations
However, the biggest stumbling block is battery life and the Z1RMP stumbles quite hard. Running Mobile Mark the Z1RMP managed a battery life of two hours and 24 minutes. This is very low for a Centrino-based notebook, and is a long way short of Sony's claim of up to six hours' battery life. I was so shocked at the result that I ran the whole battery test again, but the result was almost identical. The only redeeming factor here is that replacing the battery is a very simple affair, but then one of the reasons you're going for a Centrino system is that you don't want to have to carry around multiple batteries.
It's a shame that the battery life is so disappointing, because apart from that one issue the Z1RMP is a superb notebook. Even the price is reasonable at £1554.21 including VAT. If you feel that the limited battery life isn't an issue for you then the Z1RMP is probably a smart buy, especially if you want comprehensive wireless functionality. But if the thought of long battery life is what's attracting you to a Centrino notebook, you'd better look elsewhere.
Verdict
The Sony Vaio Z1RMP is a great looking notebook that's also a joy to use. It's fully featured yet remains slim and reasonably light. The inclusion of both Wi-Fi and Bluetooth will make it an attractive proposition to anyone who needs to stay connected on the move, and the price is impressive considering the specification. Unfortunately the battery life is well below par for a Centrino solution and tarnishes an otherwise sparkling package.
Related Reviews
Acer TravelMate 661LMi
Rock Pegasus CTS
Visit The Reg's Review Channel for more hardware coverage
Copyright © 2003, Trusted Reviews