This article is more than 1 year old
Axe falls on net pin-up's 36D assets
Back to radio for CH4's Zora Suleman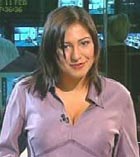 She may be about to lose her job at CH4's lamentable RI:SE, but sultry Latin beauty Zora Suleman can at least take comfort from the fact that she has become a bit of an Internet celebrity.
The breakfast TV newsreader and her near-legendary assets will most likely return to radio after bosses decided to stick the big needle into the ailing entertainment puppy.
RI:SE pretty well redefined the pre-brunch paradigm with a standard of content so low that it disproved once and for all the theory that an infinite number of monkeys banging away at an infinite number of typewriters for infinity would eventually produce the complete works of Shakespeare.
The news that Suleman will soon be removed from our screens has sent shockwaves through the masturbatory adolescent net community. The generously encleavaged minx can boast - in common with just about any other celebrity possessing lumps and a pulse - numerous homage sites and noticeboards speculating on when, and if, she will ever return.
Suleman herself has said that she will probably go back to radio (she previously worked for Capital), and reckons her 36D bust would rule her out of any serious TV newsreading post. The fact that she chose to commit journalistic suicide by flaunting herself like a two-bit hussy on Channel 4 apparently has nothing to do with it.
And if the unthinkable happens, Suleman's army of net fans will have to look elsewhere for their early-morning bowl of mammarial nourishment.
As for the CH4 breakfast slot, might we suggest programmers consider a newsreading dwarf on a trampoline and a bikini-clad Norwegian weathergirl. And topless darts. Now that's what we call entertainment. ®