This article is more than 1 year old
Living Tomorrow Today
Home of the Future in Amsterdam
A washing machine that warns you not to mix the red socks with white clothing and automatically selects the right washing cycle? All that is possible when smart tags - an antenna-bearing chip smaller than a grain of rice - are attached to your pants, socks or underwear.
It is one of many innovations showcased at Living Tomorrow, a shoe-shaped Home and Office of the Future, opened yesterday near the Amsterdam Arena Stadium in the Netherlands.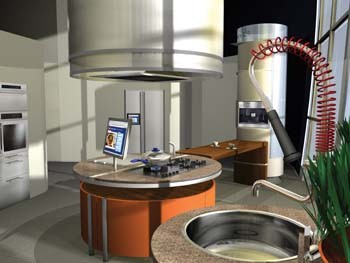 In the building - architected entirely on the computer by Berkel & Bos - Philips, 3M, LogicaCMG, HP and a dozen more partners show their applications (all near to market or recently introduced) in a living room, a kitchen, a study, a bedroom, a bathroom and several corridors.
Living Tomorrow was founded c. ten years ago in Vilvoorde, outside Brussels. Bill Gates opened the first Home of the Future in 1995 (video
here
). In 2004, Living Tomorrow will open another branch in Shanghai and next on the agenda id the USA. "We want a House of the Future on every continent," co-founder Peter Bongers told journalists.
Living Tomorrow is not just any House of the Future, usually a walk through building tucked away on a university or research lab campus. Unilever and Philips will use the building for consumer research and for testing innovative consumer connectivity concepts. LogicaCMG will provide consultant services in the areas of IT and communication technology.
The €25 million project will shut down in five years. Meantime the displayed concepts will be continuously adapted to the latest developments.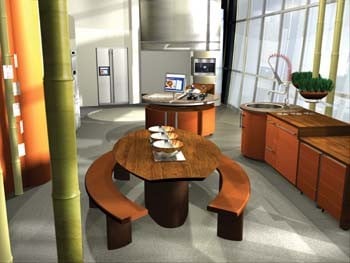 Don't expect to see far fetched-ideas, though. On show are: a bathroom mirror that displays the latest news; interactive television with mobile ticketing; websites with a ´personal agent´ and speech technology; ambient environments which adapt themselves to the needs of the workers; a conference table that responds to heated discussions (using light effects); and semi-transparent solar cells which supply much of the energy.
What about the washing machine? That's almost a reality too. Benetton's Sisley line of clothing contain a Philips radio frequency ID tag that replaces the ubiquitous bar code, although right now it is used for inventory control purposes.
Living Tomorrow is open to the general public from January 3 at weekends and on a reservation-only basis during the week. ®