This article is more than 1 year old
Evesham Voyager 64 Athlon 64 notebook
Fast as expected?

Review There's something very special about this notebook from Evesham. Something that makes this particular machine different from any other notebook that has found its way into our offices. But looking at it you wouldn't be able to see what's so special because, in this case at least, it's what's inside that counts, writes Riyad Emeran.
Beating at the heart of the Voyager 64 is an AMD Athlon 64 3200+. Now I've seen a lot of machines with AMD's new 64-bit processor inside, but they've all been desktops. This is the first notebook computer I've seen with an Athlon 64 inside it, and it brings with it a new age of mobile computing, the 64-bit age.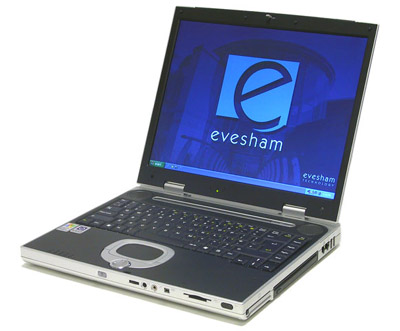 Of course there's more to a notebook computer than the processor alone, and it has to be said that Evesham has put together a formidable package in the form of the Voyager 64. Backing up the Athlon 64 CPU is 512MB of RAM and a capacious 60GB hard disk.
Graphics are very well taken care of by an ATI Mobility Radeon 9600 chipset. This is the pinnacle of notebook graphics chips and should mean that you can use the Voyager 64 to play modern 3D games. For a user that's decided on a desktop replacement notebook as their only computer, the ability to use it for leisure as well as work will be a welcome feature.
The screen is a good example, offering a rich and vibrant image. The viewing angle is pretty good, which will please anyone that has to give presentations on a notebook. The screen measures 15.1in diagonally and sports a native resolution of 1400 x 1050. The combination of screen size and resolution was perfect for me and I used the Voyager 64 for hours without the slightest hint of eyestrain or headache.
The keyboard is a strange looking beast. Although it's black in colour, the keys themselves are translucent and it's possible to see through the larger ones. I have to say that I'm not a fan of the way the keyboard looks, but I am definitely a fan of the way it performs. Maybe it's to do with the large dimensions of the chassis, but the amount of travel you get when striking each key is amazing, and the break is solid. I just found myself typing faster on this notebook than I have on any I've tested in recent months. If you're looking for a desktop replacement that you'll be typing long documents on, the keyboard on the Voyager 64 is reason enough to put it on your shortlist. Not only does the keyboard perform well, but the Return, Backspace and both Shift keys are of significantly increased size. The cursor pad is in the correct configuration and is set apart from the rest of the keyboard. If the Fn key and the Ctrl key swapped places, the Voyager 64 would have the perfect keyboard layout.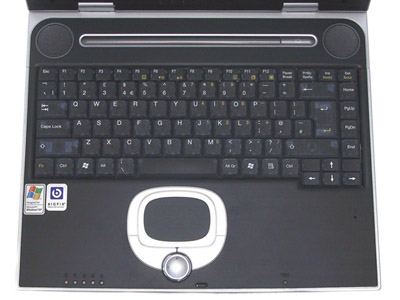 The other half of the input device complement is the touchpad. This is set far enough below the Spacebar to avoid any accidental activation while typing. The touchpad is oval in shape and black, while a large silver frame surrounds it. Below the touchpad are two buttons that emulate the left and right mouse buttons. Pressing either of these buttons results in a very loud click which you'll find either reassuring or annoying. Between the selector buttons is a four-way rocker for scrolling pages both horizontally and vertically.
Although the chassis of the Voyager 64 is large I found it very ergonomic to work with and suffered none of the typing problems that I encountered when using the Acer Aspire 2003WLMi. If there is one criticism, it's that the right hand side of the wrist rest gets very warm with prolonged use.
Evesham has pushed the boat out with the optical drive. For a start it's a slot loader, which may not be physically superior to a tray loading drive, but it's much cooler feeding CDs into your notebook this way. This drive will write CD-R and CD-RW discs, which is pretty much standard these days. But it's also a DVD writer and will happily burn DVD-R and DVD-RW discs as well. But wait, it doesn't end there. Being a Panasonic unit, this drive will also read and write DVD-RAM discs, which gives you the ability to use double sided 9.4GB discs with random read/write access. A DVD-RAM disc acts more or less like a removable hard disk and is ideal for secure, removable data storage.
The front of the chassis is well featured. Here you'll find headphone and mic sockets along with an analogue volume wheel. There's also a FireWire port, an infrared port and a memory card reader that accepts SD/MMC, SmartMedia and Memory Stick.
The left side of the case is taken up by the massive battery pack and a large exhaust vent area.
The right hand side features the aforementioned optical drive along with a 10/100Mbps Ethernet port, a modem socket, a Type II PC Card slot and two USB 2.0 ports.
At the rear is a parallel port, a D-SUB connector, an S-Video socket and two more USB 2.0 ports.
Above the keyboard is a long silver ridge with a large power button at the right end. On either side of this ridge are speakers covered in metal mesh. Considering the size of the speaker covers I expected big things from the built-in sound, but my expectations were unfounded. It would appear that only the speaker covers are large and that the actual speakers are tiny, since the sound quality is tinny and poor when playing back music.
The Voyager 64 comes loaded with Windows XP Home. You also get a copy of Microsoft Works 7.0 for office productivity, Pinnacle Studio 8SE for video editing, B's Recorder Gold for optical disc burning, and WinDVD 4 for watching movies.
Performance-wise the Voyager 64 is fast, but not as fast as I was expecting it to be. The SYSmark 2002 score of 214 makes it the second fastest notebook we've seen, but to be honest I didn't expect it to be lagging 23 points behind the Fujitsu-Seimens Amilo D8830. That's not to say that the Voyager 64 isn't a fast notebook - it most definitely is - I just expected it to be a faster notebook.
However, what really surprised me was the battery life. Usually with a big desktop replacement machine, the battery life will be pretty poor. But running Mobile Mark resulted in a battery life just four minutes short of three hours.
The Voyager 64 also turned in a 3DMark 2001 SE score of 10,044 which again is pretty impressive for a mobile platform. Of course this is due to the ATI Mobility Radeon 9600 chipset.
If you're thinking of using the Voyager 64 as a 'carry everywhere' type of notebook, don't. With a weight of 3.6kg, you wouldn't want to be lugging it around with you unless you had to and the dimensions of 33.2 x 28.5 x 4.1cm don't make it easy to slip unobtrusively into a bag either. That said, as a desktop replacement solution, the Voyager 64 excels. And if you do want to use it on the move, the battery life is more than acceptable for a notebook this large and powerful.
The only thing really missing from the Voyager 64 is wireless connectivity, but then I expect a machine like this to be carried from home to office and back again, and the chances are it will be plugged into a wired network in both places.
The final factor to consider is price, and like any new technology, Athlon 64 chips don't come cheap, so I was expecting something a little scary as far as the price goes. I was, however, surprised once more when Evesham informed me that the price for the Voyager 64 was only £1399 including VAT. Considering that you've got cutting edge technology surrounded by a feature rich package, with a price like that the Voyager 64 is a bit of a bargain.
Verdict
The first AMD Athlon 64 notebook we've seen is something of a hit. The performance wasn't quite as breathtaking as I'd hoped but the overall package offers great features and good value for money.
Related Reviews
Acer TravelMate 661LMi
Sony Vaio PCG-Z1RMP
Rock Pegasus CTS
Visit The Reg's Review Channel for more hardware coverage