Review Toshiba has built itself a reputation for producing highly serviceable, well put together PDAs with a serious leaning towards the business user. This is not to say that Toshiba ignores consumers, but rather that it sways product design and marketing towards the corporate sector, writes Sandra Vogel.
This market focus is in part why Toshiba has had a consistent policy of introducing hardware-identical versions of devices with either Bluetooth or Wi-Fi integrated: the corporate customer can then choose which wireless mode best suits them without compromising on other features.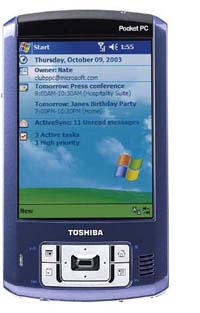 Toshiba has followed the same strategy with the e800, which comes in Bluetooth and 802.11b wireless varieties. I am looking at the Bluetooth version here, but it is the same price as the Wi-Fi version, and the only other differences between the two are a slight weight hike for the Wi-Fi model (198g as opposed to 195g), and some wireless-appropriate software differences. When you see the e800 advertised as supporting Voice over IP it is the Wi-Fi version to which that claim applies, and to take advantage of it you will need a separate subscription to a service provider.
Two things stuck me as soon as I lifted the e800 from its box: the stylish blue casing, which is eye catching and makes a change from the very samey colouring of most PDAs, and the slightly large size of the hardware. The size is due to a screen which measures a massive four inches diagonally. I am among the group of PDA users who have often wished for a larger screen - and here it is. The screen quite obviously requires a larger than usual casing in which to live, and both pockets and hands will notice the few extra millimetres all round.
But Toshiba has taken the opportunity to do something very clever with the extra screen space - pop in a graphics adaptor with its very own 2MB of SRAM, and give users the option of driving the screen at 640 x 480 pixels. To get to this resolution you use a software switch that sits on the start menu. Selecting it causes a soft reset and a few seconds of waiting. To get back to standard 240 x 320 you again go through a soft reset.
The high resolution display is a bit of a mixed bag. The standard Pocket PC applications don't support the it, and nor, actually does much else. Toshiba provides the ClearVue Suite from Westtek, which allows you to look at, but not work with, Word, Excel and PowerPoint documents and a range of image formats. Reading Word documents without scrolling horizontally requires them to be rendered to a very small font indeed - it's not advisable to do this for long periods and some people will find it simply too hard on they eye to bother with at all.
It's also irritating that you need to effectively soft reset every time you want to switch resolutions. Finally, in standard 240 x 320 the display looks rather blocky due to relatively large pixel size. In short, I wasn't actually as impressed by the high resolution as I had expected to be. I can see, though, that with increased application support, landscape viewing modes, and good WLAN access to web and other content, that this feature could one day become something very useful indeed.
Of course there is more to this Pocket PC than its screen. The processor, an Intel PXA 263, runs at 400MHz, marking out the e800 as top of the range. There is a massive amount of on board memory. 128MB of RAM is supplemented by 32MB of user-accessible Flash ROM. This is becoming pretty much the standard for higher end Pocket PCs, so it's not surprising to see Toshiba use this configuration here.
There are expansion slots for both CompactFlash and SD cards, both of which sit in the top edge of the casing. A release button for the Compact Flash card slot saves on the need to prize cards out with finger nails and is a welcome feature. Another nice touch is the Hold button on the left of the casing, which effectively locks the other buttons so they can't accidentally be pressed. A scroll wheel is also on the left of the casing, where it is well positioned for thumb access.
Bluetooth functioned well on test, and I have no complaints. It can be activated by tapping an on-screen icon, and can be disabled using a tiny switch on the bottom edge of the casing. The 'battery off' switch is positioned right next to this, and even though it is protected by a rubber cover, I can't help wondering about the danger of accidentally flicking it instead of the Bluetooth switch by mistake.
Beneath the screen sits a panel of buttons. The usual four application shortcuts nestle around a large lozenge-shaped navigation button in whose centre lies a select button. The four outer buttons have second functions for moving between audio media when the on-screen controls for Windows Media Player aren't visible.
The e800 software bundle includes two voice control applications: Toshiba Text to Speech for Pocket PC and Voice Commands. The former reads .txt documents in a computer generated (American) voice. It works, but I am not sure I'd want to listen to it all that often. The latter provides voice control for applications and try as I might I couldn't get it to work, so can't comment on its effectiveness.
Battery life is quoted as ten hours. I ran a constant mix of MP3s with the screen set on standard resolution and permanently at its mid brightness level, and got four and a quarter hours of sound and a total of five hours 45 minutres of life. This is not too bad at all for a PDA - few break the magic six hour barrier. The battery itself is removable, so you could carry a spare.
Verdict

The e800 is a good Pocket PC with some very strong specifications for a relatively high but not exorbitant price. In time, as applications begin to support it, the large, high resolution screen could become a real boon too. But in the immediate term, the range of applications that do take advantage of this feature is slim, and the disadvantages mean that I am not quite convinced it's worth having yet.