Cash'n'Carrion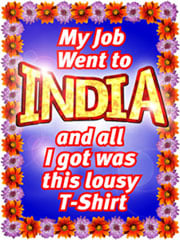 We're pleased to announce to all those readers desperate to get their hands on our instant classic
My job went to India and all I got was this lousy t-shirt
, that said item is now back on the shelves and ready for immediate dispatch.
Which is all very timely, given that the outsourcing of callcentre jobs to India continues unabated.
Still, you've got to laugh, haven't you? Or maybe not, according to Steve who posed this email question:
er... where is your new pride and joy made exactly??
Harry Mantheakis thinks he can answer that one:
I suppose there's a fair chance your 'lost my job to India' t-shirts are made in India :-)
Sorry, Harry, but you're way off the mark. In fact, all of our t-shirts are made in Indonesia by eight-year-old children working 27-hour days for a mere $10 per week. It's not much, but it's all they can afford, as the old joke goes. Boom boom!
Upon arrival in the UK, our printers - highly-skilled Albanian gypsies on day release from the local immigration centre - lovingly handpaint each and every shirt using a single badger bristle. A single garment can take up to eleven months to complete, and our enthusiastic artists welcome the tin of powdered milk they receive for every 100 shirts successfully bagged and boxed.
Finally, crates packed to bursting with top-quality apparel are carried across country by unemployed, barefoot Liverpudlians who work for no more than a can of strong lager, a packet of fags and a Lotto scratchcard a day.
Which is why we can offer you our shirts at an unbeatable £14.99 rather than the £437 they would cost were they manufactured in the UK by British workers. You see, if you add up the cost of premises, wages, benefits, taxes, etc, etc, you will see that is is simply not economically viable to keep these jobs in the UK. Nothing to do with profit. No, really. ®