Update Nokia's first 3G handset, the 7600, will go on sale in the UK this month - but not, it seems, with the blessing of 3G service provider Three.
Instead, the handsets come courtesy of retailer The Carphone Warehouse, which claims to be the phone's exclusive UK supplier.
In fact, you can also get one through the Reg Mobile Store, SIM-free and unlocked, or with an O2 GSM connection.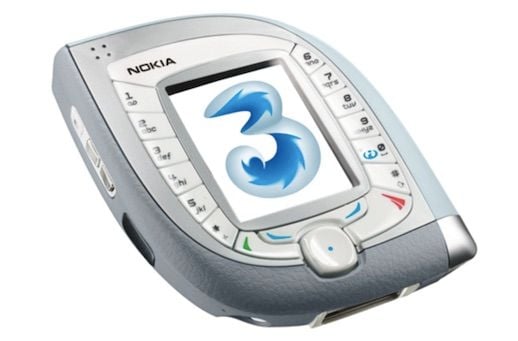 The 7600
Weighing a mere 123g and measuring 8.7 x 7.8 x 1.86cm, the 7600 is one of the lightest and smallest dual-band GSM and 3G (WCDMA) phones in the world. It also features a 640 x 480 digicam which can be used for stills and two-and-a-half minutes of 15fps video. To complete the handset's multimedia features list is polyphonic ring-tone support and a built-in MP3/AAC audio player.
Songs can be transferred to the handset using a USB connection or the phone's integrated Bluetooth link. Up to 29MB of storage capacity is available for tracks, pictures and video. The phone has talk time of almost three hours using a 3G connection. Stand-by time is up to 12.5 days.
There's a catch, however: 7600 owners will be able to watch some of the video content Three offers, but not the network's premium material, such Premiership football goals or - ahem - its porn channel.
Nor, crucially, can the phone be used to make video calls, we understand.
Depending on which Three tariff buyers choose, their 7600 will cost up to £229.99, Tech Digest reports.
The Reg Mobile Store is charging £359 (exc. VAT) for a SIM-free version, or £159 (exc. VAT) with connection to O2's non-3G GSM network. ®
Related Story
Nokia launches trendiest phone yet