Orange launches own-brand wireless PDA
Not unlike O2's XDA II
Mobile phone network Orange has branched into the wireless PDA arena. The latest model in its SPV line of own-brand devices, the M1000, is a PocketPC with an integrated tri-band GPRS radio.
The M1000 is remarkably similar to O2's XDA II device, but lacks the latter's Wi-Fi option. Both devices are based on a 400MHz Intel XScale processor and contain 128MB of RAM. Both offer a 3.5in 240 x 320 16-bit colour transflective LCD, and sport integrated digicams. Both run Windows Mobile 2003.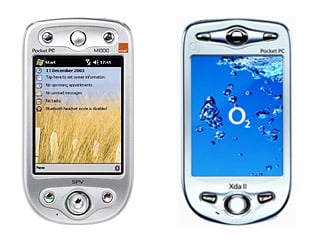 The M1000 offers an MMC/SD Card slot for expansion. In addition to GPRS, the device also provides Bluetooth and Infrared connectivity.
The 13 x 7 x 1.8cm unit weighs 190g. Orange claims the internal rechargeable battery can offer 3.5 hours' of talk time, standby time of 6.5 days and PDA usage time (with the radio turned off) of 12 hours.
Orange is marketing the SPV M1000 at business users, with calls and GPRS data connections billed according to the network's business tariffs. The cost of the device depends on which contract you take. ®