Asus adds Wi-Fi to MyPal PDA family
Bluetooth in there, too
Reg Kit Watch Asus has launched its first Wi-Fi PDA, the MyPal A716. The device also offers Bluetooth wireless connectivity to provide Internet access via a compatible mobile phone when you're out of range of a hotspot.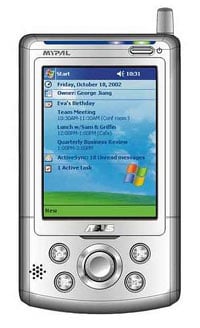 The A716 is powered by an Intel XScale PXA255 processor clocked at 400MHz and runs Windows Mobile 2003. It contains 64MB of SDRAM, with 53-55MB available to the user depending on which language you choose (55MB for Western languages; 53MB for Chinese).
In addition to 802.11b and Bluetooth, the device offers fast infrared connectivity (4Mbps) as well as standard-speed (115.2Kbps) infrared. Expansion is provided by CompactFlash and SD Card slots.
The A716 has the usual 3.5in 240 x 320, 16-bit colour PocketPC screen spec, but at least it's a transflective panel. If it's anything like the display used in Asus' MyPal A620BT Bluetooth-only PDA (see our review), it'll be good. Asus claims the device is capable of 60fps video playback.
The PDA measures 13.5 x 7.8 x 1.8mm and weighs 197g with a standard 1500mAh battery, but Asus is also offering a 3000mAh unit that it claims will offer 19 hours of runtime. it's not clear if that's with the Wi-Fi and Bluetooth radios switched on or off. ®
Related Stories
Review: Asus A620BT Bluetooth Pocket PC
Sony debuts low-end PDA alongside Wi-Fi models
Related Products
Find for your next PDA in The Reg Mobile Store