El Reg moots Bangalore hack outsource plan
Transfer of newsroom to the Subcontinent?
---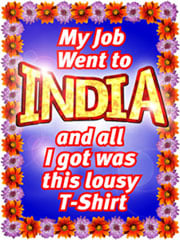 One unexpected effect of the release of our terrific "My job went to India and all I got was this lousy T shirt" limited edition is that Vulture Central itself is now considering outsourcing all of its hacks to Bangalore.
The plan involves transferring Reg newsroom functions to India, thereby liberating huge sums of cash to be ploughed back into improving the product. Early reports indicate these would include a Learjet for senior management, Armani suits for the marketing boys and a plush suite of offices at the Savoy.
Readers should not be alarmed at the possible repercussions on standards. Bangalore is awash with IT-savvy graduates with an excellent command of English. They offer three distinct advantages over their English and US counterparts: they earn 60p an hour; they do not have to be got drunk twice a week; and they can spell.
Meanwhile, those of us possibly affected by the proposal have been assured that we will all receive said t-shirt as compensation. We fully accept that the move is not profit-based, and designed purely to improve customer service.
Further updates will follow as, and when, we have them. However, should things move forward quicker than expected, the next time you read a shameless merchandising plug such as this, it will be written by an Indian callcentre operative. ®