This article is more than 1 year old
Swiss set to unleash flying car
Ultimate 'space-age toy' for wannabe James Bonds
God knows it's been a long time coming, but Swiss outfit Rinspeed has finally announced that it will unveil an all-singing, all-dancing flying car at the Geneva Motor Show in April.
Rinspeed is the self-proclaimed "leading company for exclusive automotive accessories, customized cars, conversions, custom fabrication and prototypes" and seems to be heavily involved in Porsche tuning. It will pull the chocks from beneath the Rinspeed Splash, thereby at a stoke liberating boy racers worldwide from their earthly shackles. Take it away, breathless corporate blurb: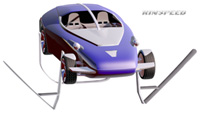 Her Majesty's favorite secret service agent wished hard to have this space-age "toy" under his Christmas tree, but the ingenious old man in the lab was late commissioning Swiss automobile dream factory Rinspeed Inc. to make this wish come true. So he has to wait until after the Geneva Motor Show 2004 to venture off to his new mission. But then well equipped with the first automobile in the world which can actually drive, swim and fly across the water - the Rinspeed Splash.
For the Geneva Show 2004 Rinspeed Inc. has conceived not only a very attractive sports car, but has gone a big step beyond. The Swiss company has built the first and only sports car in the world which not only drives in a very quick manner, but can actually swim and fly across water. A sophisticated and foldable high-tech wing system powered by on-board hydraulics and electronics allows the "Splash" to take off in the third dimension. An ultimate dream comes true. As a tradition at Rinspeed, the environmental visions are important as well. The "Splash" is powered by a light weight 750 ccm engine producing a whopping 140 hp and running on natural gas (CNG). The turbocharged two cylinder power-pack propels this extraordinary NGV (Natural Gas Vehicle) to a top speed of approximately 200 km/h on the road and 50 km/h on the water, respectively 80 km/h over water.
Hold on minute, what's this about "fly across water"? That's just a set of hydrofoils you've bolted on there. Blimey, these have been about for years - you can even buy a second-hand hydrofoil passenger ferry for $1.5m right now, and cruise about to your heart's content.
What no hydrofoil-equipped vehicle can do, however, is fly. Not according to the Vulture Central criteria at least. We gather Rinspeed intend to challenge the cross-Channel speed record later this year in the Splash by flying in from the continent. We will ensure that Trading Standards Officers are waiting at the dockside in Blighty ready to slap the cuffs on these yodelling James Bonds and then beat them with a copy of the Trade Descriptions Act. Enough said. ®
Bootnote
We know that a hydrofoil is an underwater wing and that it is possible to define their use as "flying" but we're having none of it - correspondents have been duly warned.