Nokia introduces 'megapixel' mobile
Well, just under a meg, actually
Nokia introduced its first megapixel camera phone today which also features the company's latest in a long line of bizarre keypad layouts.
Indeed, the 7610 "imaging device", looks rather like a 7600 that's been stretched. Unlike the older, 3G model, the 7610's 176 x 208, 16-bit colour screen sits above the keypad rather than inside it.
The camera is a megapixel job by the skin of its teeth. With a 1152 x 864 resolution, it actually contains 995,328 pixels, allowing Nokia to claim megapixel status only by rounding up. Still, it offers a 4x digital zoom, timer mode and what Nokia calls a "high quality lens".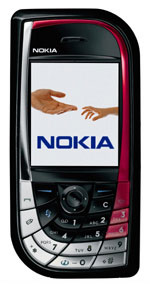 The handset itself is a tri-band GSM/GPRS unit, though it will be offered as both 900/1800/1800 and 850/1800/1900 versions when it ships next quarter.
The 7610 runs Nokia's Series 60 UI on top of the Symbian OS. Like the 6600, it features Bluetooth and Kodak's photo printing application. E-mail is integrated into the handset's Messaging app, and the phone provides a Web browser and an MP3/AAC music player, too.
More interesting is Movie Director, which allows video footage to be stitched together into sequences lasting up to ten minutes - thanks to the 72MB of memory the phone provides through the 8MB of on-board RAM and a bundled 64MB MMC "reduced size" memory card. Nokia is also including Lifeblog, which is a kind of digital diary that sits on your phone or PC rather than a web site.
Nokia claims the phone will provide three hours' talk time or 250 hours' standby time. It weight 118g and will retail SIM-less for around €500 when its ships next quarter. ®